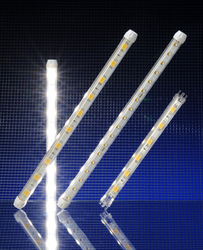 Superbright LEDs have long been the first choice for many kinds of lighted buttons, switches, indicator lights, and display panels
Latham, NY (PRWEB) December 16, 2008
Marktech LED Lighting Products, LED supplier since 1982, brings practical LED lighting solutions to consumers with the introduction of our T5 LED Light Tubes. With an 80 CRI (color rendering index) and slim design, the T5 is ideal for a variety of applications, including general or indirect lighting of display cases, wall washes and alcoves, in addition to backlighting of POP displays and vending machines.
The T5 light tube operates at 24Vdc and is available in both a low power, narrow angle 60º and a high power, wide angle 120º version. The superbright LEDs are currently available in three color temperatures, 3300k, 4200k and 6500k and offered in lengths from 1 to 5 feet with either a clear or diffused cover. Each tube is sold with metal mounting clips, so it can be easily mounted. There are three mounting clip options to choose from to fit a variety of applications and situations. This small and stream-lined light tube was created to satisfy almost all direct and indirect lighting needs, and Marktech LED Lighting Products believes that it will.
"Superbright LEDs have long been the first choice for many kinds of lighted buttons, switches, indicator lights, and display panels," says Mark Campito, CEO of LED Supplier Marktech LED Lighting Products. "The T5 LED Light Tubes simply make LEDs even more versatile than they were before."
Marktech LED Lighting Products is an LED supplier that knows what they're talking about. They have been in business for more than 2 decades and offer customers high quality, high brightness LED lighting products at the best possible prices.
"At Marktech, our primary aim is to help our customers save energy and save money," says Campito. "We help them save energy and money by providing safe, efficient solid stage lighting for use in and around our customers' homes and businesses."
For more information on the T5 LED Light Tubes or other white light LED options, visit MarktechLEDLighting.com.
About Marktech LED Lighting Products:
Marktech LED Lighting Products is the definitive source for LED lighting products. The website is fully searchable and features LED bulbs, LED ExtendLites, LED Light Panels, and LED Light Tubes. Mark Campito, CEO of Marktech LED Lighting Products, has more than 25 years of experience in the engineering and LED lighting industry, as well as the marketing and sales industries. For additional information on any of our LED or LED Driver products contact Marktech Optoelectronics at 3 Northway Lane North, Latham, NY 12110, or 1 (800) 984-5337.
###