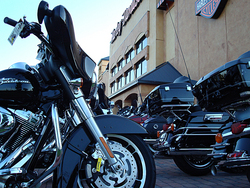 We had arranged to come down and install RoadLoK Defenders in the showroom for customers to see, try, and purchase
Orange County, NY (PRWEB) December 18, 2008
Bruce Rossmeyer, owner of the world's largest Harley-Davidson® dealership is equipping all new motorcycles leaving his showroom in Ormond Beach, Florida with a RoadLoK Defender locking system to protect all of his customers.
"We had arranged to come down and install RoadLoK Defenders in the showroom for customers to see, try, and purchase," stated Steve Rouhana, RoadLoK Security Account Representative. "We expected to move a large quantity of Defenders and halfway through Biketoberfest (in October) we found ourselves over our goal. Between Defenders awaiting installation on all showroom motorcycles, and those being sold to customers over the parts counter, customers kept us extremely busy. To our advantage, the dealership's salespeople were very helpful in educating the customers on properly using their RoadLoK before they rode their motorcycles out of the showroom."
"The words 'RoadLoK' and 'Defender' were heard everywhere we went", exclaimed RoadLoK Security Sales Manager Daryl (The Chief) Xavier. "Customers who'd purchased their bikes during the day could be heard throughout the complex at Destination Daytona--even during the evening hours, showing their friends how simple and easy the Defender was to use and how well the fit and finish matched their calipers. Inside the dealership, salespeople treated us like we'd been part of the team for years", the Chief explained.
"This is one of the finest products I've seen in this industry in many years", exclaimed Larry Steele, Daytona Harley-Davidson General Manager. During Biketoberfest--the official launch of the RoadLok campaign--Harleys throughout the showroom were equipped with either a chrome or black anodized RoadLoK Defender. With such a large quantity of Defenders being installed and sold during Biketoberfest, reinforced by overwhelming customer response, Rossmeyer's will now feature a RoadLoK on every motorcycle leaving his dealership.
"The whole trip to help set up the dealership was a great learning experience for myself, and everyone of us had a great time installing and answering questions for customers who saw 'RoadLoK' everywhere they went inside the dealership", stated Rouhana. "Our presence and assistance for Rossmeyer's won't end here. We'll be present for the next month setting up more of Rossmeyer's dealerships with RoadLoK Defenders and assisting customers one on one with any questions they have. We also plan to put a full-time rep right in the dealership." He continued, "We live and breathe motorcycles, and we are here for any biker who wants to know more about our locking systems. We look forward to seeing everyone again in the spring of 2009 for Bike Week! Until then, ride safe, and park smart."
Background:
The RoadLoK Motorcycle Locking System is the only motorcycle lock in the world that cannot damage the motorcycle it's protecting. Because the locking system is permanently installed on the bike, all movement is eliminated when the lock is engaged. No movement means no damage if the rider forgets to unlock the RoadLoK before attempting to ride off. The rider is also relieved of carrying a 'disc lock', padlock, or chain while riding. All the rider has to carry is a very small removable locking pin. For more info please visit: roadlok.com or call (888)-ROADLOK.
RoadLoK Security
126 Sprague Avenue
Middletown, NY 10940
(888)-ROADLOK
http://roadlok.com
###