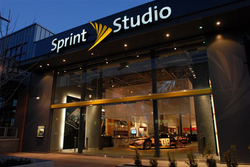 It may not sound unique
Exton, PA (PRWEB) December 17, 2008
Scala, the leading provider of end-to-end solutions for the connected signage market, today announced a revolutionary deployment of digital signage at the Sprint Store in Kansas City, Missouri. The innovative deployment was realized through the creative collaboration between Scala Certified Partners: Level 5 Media Group and Hammond Communications Group and IBM.
The Sprint Company, a leader in telecommunications, recently launched the Sprint Studio in Kansas City. Totaling 5,500 square-feet, the new facility is a high-tech showcase for the latest in retail design and digital signage technology. Scala Certified Partners Level 5 Media Group, a subsidiary of CTI Solutions, Hammond Communications Group and IBM collaborated to help Sprint realize their dream to deliver the most revolutionary deployment of retail digital signage in the country.
Sprint turned to Level 5 Media Group to help develop a ground breaking retail digital signage solution. Level 5 Media Group took the reigns as the project manager and lead integrator for the Sprint Studio solution. Level 5 then collaborated with Hammond Communications Group, IBM and Scala to take the Studio concept from the drawing board to a working solution in less than three months.
Visitors to the store are greeted at the concierge station, where they are then directed to one of five zones, depending on interest. Each zone is equipped with three to five HD LCD monitors with content relevant to customer queuing and zone specific messaging. There are a total of 17 HD displays spread throughout the store. One of the innovative elements of the system comes during the "Grand Moment".
During triggered events, which are scheduled to occur randomly around the top of every hour, the digital signage system performs a "Grand Moment" by lowering the ambient light and audio in the entire store and playing synchronized video, audio and special effects lighting. During a Grand Moment, a single message comprised of 17 HD videos and 5 audio sources (one for each zone) is split and synchronized on 17 displays, with each of the 5 zones playing audio relative to its "part" of the Grand Moment. Scala programmers took the lead in developing the triggering codes for multiple third-party devices and applications. This included custom triggers for BIAMP lighting servers, Muzak audio controllers, Sprint's custom Queue application as well as the overall "Grand Moment" triggers that brought them all together. Scala engineers also played a key role in helping Level 5 determine the proper hardware devices needed to operate the network. Extensive testing was required to find the proper devices capable of firing 17 HD videos, within 5 playlists, each being between 4080 and 6800 pixels wide per zone, at precisely the same time!
Much of the magic behind the "Grand Moment" can be found in the custom HD transcoding, scripting and central Content Manager configuration performed by Hammond Communication Group, the custom programming created by Scala engineers and the third-party triggering device development by Level 5 Media Group . These items allow the Content Manager to control, not only the Media Players, but also external environmental control devices, which when used together allow for synchronized audio, video and lighting. The visitor experiences an entire store moment unlike any in the retail environment today.
"This truly is one of the most innovative digital signage deployments in a retail space," claims Brian Russell, Managing Director for Level 5 Media Group. "We are honored to be a part of it and look forward to continuing our partnership with Sprint to help them provide a better experience to their retail customers."
"We are excited to be a part of this ground breaking project," states Dean Reverman, Director of Business Development for Hammond Communication Group. "Digital signage continues to offer retailers unique opportunities for in-store communications and customer experience. Projects like the Sprint Studio confirm the importance of digital signage for retailers today."
"It may not sound unique," claims Craig Miller, Hammond's Vice President of Interactive Media, "but firing 17 HD videos running within 5 separate Scala playlists, each being between 4,080 and 6800 pixels wide per zone, requires a great deal of sophisticated programming. Our customers are demanding more from digital signage than just animated content on a single display. Custom programming, like that performed for Sprint, will be the rule rather than the exception as we move forward."
"Projects like the Sprint Studio store would not be possible without the innovative industry skills found in the Scala Certified Partner program," says Andrea Waldin, Vice President of Marketing for Scala. "The aggregate skills available throughout the community not only benefit our customers but are a resource to other members of the community."
About Level 5 Media Group
Level 5 Media Group is a leader in the field of Digital Content Management and Digital Signage. We specialize in visual communications and display solutions. Level 5 designs and develops total solutions for large-screen visualization in the markets of government agencies, municipalities, financial institutions, education, cable broadcast facilities, entertainment venues, retail locations, casinos, elevators and corporate office buildings.
Level 5 Media Group is a subsidiary of CTI Solutions, together we bring over 28 years of IT and communications experience to the table. We hold ourselves to the highest standards for support, service, design and overall integration of your digital signage network. Let us help you take your message to the Next Level! More information is available at http://www.level5mediagroup.com
About Hammond Communications Group
Hammond Communications Group has evolved into a full-service multimedia communications company, providing film production, video news releases, DVD presentations, 3D computer animation, virtual tours, web site development, interactive sales and marketing presentations, computer-based training applications and CD-ROM development. In order to provide clients with comprehensive visual services, HCG has an interformat on-line digital-editing suite, a non-linear Avid editing suite, a dedicated sound production studio, a fully functional drive-in studio, a full complement of web development platforms, and a 3D-computer animation department.
At Hammond, we believe good communications are vital to the client/vendor partnership. Key personnel are actively involved at each crucial stage - from budget considerations, through concept development, to delivery of the final product ad project maintenance when appropriate. More information is available at http://www.hammondcg.com.
About Scala
Scala is a leading global provider of digital signage and advertising management solutions. By combining digital and traditional signage systems, Scala has become the world's first connected signage company, allowing customers to create, manage and distribute both traditional and digital signage via one software platform. The company's solutions are used in retail, education, entertainment, government and other industries for diverse applications such as retail advertising networks, corporate communications (employee TV), traditional and digital billboards, digital menu boards, digital posters, cable TV, hotel lobby signage, gas pump toppers, outdoor advertising, interactive touch-screens and kiosks, etc. Scala pioneered the digital signage industry and today drives over 70,000 screens worldwide; more screens than all competitors combined. The company's digital signage platform customers include Rabobank, IKEA, Burger King, T-Mobile, Virgin MegaStore, EuroDisney, McDonalds, Warner Brothers, Ericsson, The Life Channel, Rikstoto, FuelCast, Repsol, Shell, NorgesGruppen and thousands more. The company's advertising management customers include CBS Outdoor, Clear Channel Outdoor, Magic Media, Reagan, Adams Outdoor Advertising, and many more. Scala is headquartered near Philadelphia, USA and has subsidiaries in Canada, The Netherlands, France, Norway, Japan and also over 450 partners in more than 60 countries. More information is available at http://www.scala.com.
©2008 Scala, Inc. 350 Eagleview Blvd. Exton, PA 19341. Scala, InfoChannel, and the Exclamation Point Logo are registered trademarks of Scala, Inc. All other trademarks are the property of their respective organizations.
###