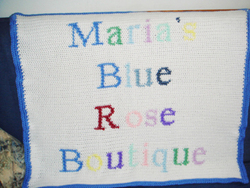 The https://02bf14b.netsolstores.com/login.aspx [personalized throws and blankets], baby blankets, and towels sold through Maria's BlueRose Boutique are truly unique, featuring excellent craftsmanship
Glendale Heights, IL (PRWEB) December 16, 2008
Maria's BlueRose Boutique is excited to announce the grand opening of their online store, featuring personalized baby blankets, adult blankets, throws, and towels. The new store, located at Mariasblueroseboutique.com, features crochet products, lovingly hand crafted in a clean, smoke-free environment by the store's owner, Maria Babiarz.
The online store is Babiarz's latest endeavor, one of many unique undertakings in a very eventful life. Babiarz, who was born in Poland, has spent over thirty years in the United States working as a truck driver, a television technician, and she has always enjoyed the art of crochet. Recently, Babiarz has turned her hobby into her livelihood.
"The personalized throws and blankets, baby blankets, and towels sold through Maria's BlueRose Boutique are truly unique, featuring excellent craftsmanship," says a spokesperson for the online store. "The products are heirloom quality and make great gifts for christenings, showers, newborns, or a simple lap blanket for someone you love."
Maria's personalized baby blankets are of a generous size, 32" by 32", and are made to last years and beyond to become a treasured keepsake. Each of the personalized baby blankets are soft and luxurious, and in addition to Maria's personalized throws and blankets, the store offers towels, panchos, prayer shawls, and handmade jewelry.
"The crochet kitchen towels available at Maria's BlueRose Boutique are not just great gifts," says the store's spokesperson. "In addition to their decorative value, they are truly useful."
Maria's BlueRose Boutique ships to the United Kingdom, Japan, and Canada, in addition to the United States. The website allows visitors to shop by category or price, and allows users to search the website for the products they're looking for. Shopping cart software allows users to manage their account and purchase personalized baby blankets and other products online.
For more information on Maria Babiarz and the personalized throws and blankets of Maria's BlueRose Boutique, visit Mariasblueroseboutique.com.
About Maria's BlueRose Boutique:
Maria's BlueRose Boutique is owned by Maria Babiarz, a U.S. Citizen who learned to crochet while growing up in Poland. After learning the basic stitches, Babiarz decided to make a living of her hobby in the United States. Babiarz made her first crochet afghan 30 years ago, and that afghan is still in use today. The grand opening of Mariasblueroseboutique.com allows customers all across the United States, Canada, the UK and Japan to purchase her handmade products online.
###