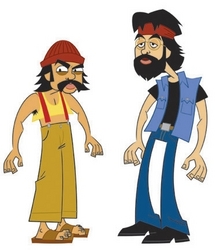 During this age of feature animation everywhere, it's about time that we got animated because we've been doing animation without the animation for years
Los Angeles (PRWEB) December 16, 2008
Big Vision Entertainment, a leading independent licensee, producer and DVD label for special interest programming and Chambers Bros. Entertainment a television and animation production company, today announced an exclusive deal with music mogul Lou Adler, owner of Ode Records, for the animated movie rights to the classic Cheech and Chong library of recorded comedy content.
The exclusive worldwide production and distribution agreement includes all theatrical, television, home video and digital rights to create an animated movie based on the "pot culture" comics' most famous comedy bits. Eric & Branden Chambers are directing the animation. Project will be produced by Houston Curtis of Big Vision, along with Keith, Branden and Eric Chambers of Chambers Bros. Entertainment, who created the concept. In addition, Adler, Curtis and the Chambers Bros. will serve as executive producers. Project will be completely financed by Big Vision Entertainment.
"Big Vision is thrilled to be working with Lou Adler, the Chambers Brothers, and of course, Cheech and Chong," said Houston Curtis, Founder and CEO of Big Vision Entertainment. "While our expertise in both the television and home video space give us supreme confidence that Cheech and Chong's Smokin' Animated Movie will be a huge success in those markets, we are also excited about exploring the possibilities of a theatrical release."
Sales for DVD, digital and television will be handled through Big Vision's TV and home video arm, which currently has distribution for over 100 titles throughout the US and around the world.
"We feel that Cheech and Chong's special brand of comedy appeals to multiple generations," said Eric Chambers, partner of Chambers Bros. Entertainment. "By lending a unique animation style to these classic and timeless bits, we are able to transform the comedy into something fresh, exciting and even more hilarious than ever before."
"It's great to be doing a movie where Cheech and I never have to get out of bed or be on-camera," said Tommy Chong. "The fans have already shown us they love the material, and the animated bits play funnier by being able to see the character reactions. I highly suggest watching it while while smoking a big fattie!"
"During this age of feature animation everywhere, it's about time that we got animated because we've been doing animation without the animation for years" said Cheech Marin, "Whether you watch it smokin' a fattie or stone cold sober, it's just plain funny!"
Recording industry legend Lou Adler added, "With Cheech and Chong reunited and selling out venues worldwide, the timing couldn't be more perfect for this unique, one-of-a-kind animated feature."
Updates and info about the project will be available for fans and press at http://www.smokinanimation.com
About Big Vision Entertainment:
Big Vision Entertainment, founded by Houston Curtis in 2003, is the number one special interest home video label in the United States. BVE titles can be found in every major retail outlet in the US including, Wal-Mart, Target and Best Buy.
In addition to home video, Big Vision is also a leading production company and creator of alternative programming across a variety of genres. Shows include The Ultimate Blackjack Tour on CBS, Wrestling Society X on MTV and Aruba Poker Classic on GSN. The company has recently completed pilots for A&E, Tru TV and the G4 network. In September of 08, company signed a muti-year distribution agreement with Image Entertainment for the North American home video rights to the entire BVE catalog of titles. Big Vision is represented for television by Greg Lipstone of ICM and attorney Jon Moonves of Del , Shaw, Moonves, Tanaka, Finkelstein,& Lezcano. BVE's home video deals are represented by Rob Rader of Mitchell, Silberberg & Knupp, LLP.
About Chambers Bros. Entertainment:
Chambers Bros. Entertainment (CBE) was co-founded in 2000 by producer/directors Branden and Eric Chambers. Also a partner in CBE is their father Keith Chambers, founder of The Chambers Group. Keith is a legendary branding and new product development wizard for many Fortune 500 corporations.
RECENT - In February 2008, CBE inked a first-look production deal with Fremantle Media, the content and production division of RTL Group. CBE created and executive produced for SPIKE TV. The Ultimate Gamer. Keith, Eric, and Branden also recently executive produced History Makers, a talk show pilot hosted by A&E's Bill Kurtis. They also created and jointly executive produced with Maverick Films a reality pilot for VH1, Breakthru. Eric and Branden also executive produced The Naked Truth; a talk show hosted by Stryker, KROQ's Love Line tongue-in-cheek purveyor of pop culture D.J. CBE created the animated children's DVD series Sea Tales. CBE also developed and produced the interactive DVD magazine PLA ("play") for Sony Distribution.
About Lou Adler:
Lou Adler is one of the most successful and well-known music producers of all time. He received his star on the Hollywood Walk of Fame on April 6, 2006. A lifelong Angeleno, raised in East L.A. has been honored by the Mayor and City Council of Los Angeles for bringing recognition to the City of Angels by popularizing California pop culture. As a music producer, Adler helped define a generation with his productions of Jan and Dean, Johnny Rivers, The Mamas and the Papas, Spirit, and Carole King, as well as the comedy duo Cheech and Chong. Some of his hits include "California Dreamin'," "San Francisco (Wear Some Flowers In Your Hair)," "Eve of Destruction," "It's Too late," and Carole King's Tapestry album. As a multiple Grammy winner, he has produced 18 Gold and Platinum albums and 33 Top 10 singles; and co-written three Top 10 songs including "(What a) Wonderful World,". Adler has also produced for both stage and motion pictures. His film credits as a producer are The Rocky Horror Picture Show; Shock Treatment, Monterey Pop; and Robert Altman's Brewster McCloud. Adler directed Cheech & Chong's Up In Smoke as well as Ladies and Gentlemen, The Fabulous Stains. He is a founding board member of the Los Angeles Free Clinic, and the L.A. Children's Museum. He and his wife Page Hannah-Adler are founding board members of the Mattel UCLA Children's Hospital and founders of The Painted Turtle, a member of the Association of Hall in the Wall Camps, for children with chronic and life-threatening illnesses. He is the father of seven boys.
About Cheech & Chong:
Cheech moved to Vancouver, British Columbia as a political refugee, and soon met Tommy Chong who owned a topless club. Eventually, Cheech and Chong teamed up and moved back to Los Angeles performing their stand-up/music act at clubs until they were discovered at the Troubadour by Lou Adler. "The rest," Cheech says, "is history." Between 1972 and 1985, they released nine albums: Cheech and Chong, Big Bambú, Los Cochinos, Cheech and Chong Wedding Album, Sleeping Beauty, Up In Smoke (soundtrack), Let's Make a New Dope Deal, Cheech and Chong's Greatest Hits, Get Out of My Room. Big Bambú became the largest-selling comedy recording of all time, retaining that distinction for many years. Six of the albums went gold, four were nominated for Grammys, and Los Cochinos won the 1973 Grammy for Best Comedy Recording. Cheech and Chong's first movie, Up In Smoke, was the highest grossing comedy of 1978, topping $100 million at the box office. . Others were Cheech and Chong's Next Movie, Nice Dreams, Things Are Tough All Over, Cheech and Chong: Still Smoking, and The Corsican Brothers.
Cheech and Chong recently embarked on their first tour in over 25 years, Cheech & Chong: Light Up America...an epic cross country U.S. trek that is selling out in minutes at venues across the country.
###