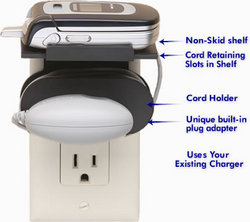 I love it! It would be a great idea for a gift.
Franklin, MA (PRWEB) December 16, 2008
CP Docks introduces its latest cell phone charging station, the new, portable Plug-in-Shelf model, a product that eliminates the tangle of cell phone charger cord clutter from counters and tables. When you need to travel, simply unplug the unit and take your charger and charging station with you!
The Plug-in-Shelf cell phone accessory is a clever problem solver that allows cell phones, chargers and cords to be placed on a small convenient station that plugs into any electrical outlet in your home. The unit consists of a shelf for the phone, a cord holder to hide the charging cord and a unique plug adapter to plug in your existing charger. There is no need to store the charger when not in use since it can always stay with the charging station, even when you travel.
Manufactured from durable plastic with a skid-free pad to hold the phone or PDA, the Plug-in-Shelf plugs into any outlet and keeps your charger and cell phone in one place. No storing and looking for your charger and best of all, no more messy charger cords laying on your kitchen counter! The Plug-in-Shelf is $12.95 and available at http://www.cpdocks.com. with free first class shipping.
Professional home organizers have discovered the CP Docks cell phone chargers. Geralin Thomas, a professional organizer from North Carolina, recently learned about the units and put them in her own home.
"Recently, I discovered the Plug-in-shelf and I'm impressed! It's a gizmo that requires no learning curve, no batteries and best of all, it is inexpensive. This product actually conquers and cures countertop-cord-confusion. Clients love them. Professional Organizers love them. Geeks love them. Families love them. I appreciate the way one intelligently designed little thing can change the entire landscape of a room. If your counter tops are covered with cords from iPods, mobile phones, digital cameras, computer cables, etc. I suggest the Plug-in-Shelf or EZ Mount Cell Phone Charging Stations."--Geralin Thomas, Metropolitan Organizing, http://www.metropolitanorganizing.com
The benefits of the Plug-in-Shelf charging station include:

A permanent location for your cell phone and charger.
Uses your existing cell phone charger.
No more need to store your charger when not in use.
No more looking for your charger when you need to charge your phone.
Your cell phone is always charged and ready to use.
Keeps your tables and counters clear of messy charging cords.
Protects your phone from spills and damage.
It makes the perfect holiday gift.
Many other customers have discovered the benefits of the CP Docks line of cell phone charging stations.
"My kitchen counter space had disappeared with the mess of cell phone cords from my husband and my two teenagers. It seemed I was always pushing them out of the way ... the EZ Mount solved my problems -- and the kids can finally find their car keys!" -- Carol, MN
"The Plug-in-Shelf works great for me. I am getting an extra one for my fiancb-Wendy, MI
"I am a contractor who can get a call in the middle of the night. I keep my EZ Mount next to my bed. The phone acts as a night light while charging and it is handy if I get a late night call. A great product!" -- Dennis, MA
"I love it! It would be a great idea for a gift." -- Nancy, NH
The portable Plug-in-Shelf, along with the EZ Mount Charging Station, which features a built-in key hook, is now available online at http://www.cpdocks.com. You now have two great solutions to keep your home organized and clear of the tangle of cell phone charging cords.
###