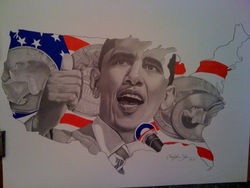 Obama's eyes literally look as if they will blink at you at any moment
Washington, DC (PRWEB) December 16, 2008
Christopher Shannon Art today announced the release of the limited edition of his latest work "Change in America". This limited edition drawing takes the theme and slogan of the most significant event in American political history and presents it in a most literal sense.
Change in America is a striking and realistic portrait of President-Elect Barack Obama delivering one of his most moving and impactful speeches. President Elect Obama is centered in the middle of The United States of America that unanimously elected him as their 44th President. Displayed throughout the drawing are American currency in the form of coins or change that amplify the overall message that led record numbers of American voters to the polls and united American people of every race, religion and political affiliation. This limited edition portrait is extremely realistic and simply breathe taking.
"Obama's eyes literally look as if they will blink at you at any moment," says Jason Scott, DC area resident and private art collector. This particular work being introduced here has been in secret development for a long time and is the first in a series of portraits dedicated to the historical presidency of Barack Obama. "He may not be the best in the World, but he is the best I've every seen..." says R&B singing artist, celebrity and art collector Ginuwine.
Christopher Shannon captures not only the spirit of this historic event but also the literal meaning of change. "I just want people to feel the emotional significance of this event..." says Christopher Shannon. "There are lots of depictions of Obama out there; my goal is to not just present the man; but the message in a way that provokes thought and reflection on what this really means." "This is the most unique Barack Obama Art that is available for purchase..." says Johann King art enthusiast and DC resident. " I would compare and put this up against any piece out there and for only $350 unframed, its a steal."
Changes in America limited edition prints are available for purchase on http://www.ChristopherShannonArt.com for a limited time.
Each print will be accompanied by a certificate of authenticity.
About the Artist:
Christopher Shannon is a self taught freelance artist, illustrator with over 20 years of experience as a professional. Christopher's passion for drawing and painting grew out of creating images and portraits for friends and family members as a hobby which soon after turned into a profession.
Christopher Shannon has developed a technique that brings realistic effects to many portraits. In some cases his artwork looks as if the original photo has been enlarged.
Fine Art Reproductions with a Personal Touch:
Fine art collectors, commercial buyers and interior designers should be delighted to know that only the highest quality fine art reproductions are offered by Christopher Shannon Art. Most of the original drawings are fairly large so they are being presented in several sizes appropriate for any wall space.
As one might imagine, Christopher Shannon's exacting nature commands quality at every level. Every drawing is signed by the artist and accompanied by a certificate of authenticity.
For more information or to order limited edition prints or commissioned art visit http://www.ChristopherShannonArt.com
Media Inquires: Say It & See It Productions, LLC
Press Contact:
Shawn Matthew Cook
Ph: 301-943-8666
###