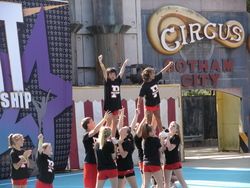 We have learned over the last nine years that cheerleading, like many other sports, should be open to everyone, regardless of physical or mental capabilities
Reading, PA & Atlanta, GA (PRWEB) December 19, 2008
In effort to make the holidays happier for deserving children and bring attention to special needs sports programs, GK Elite Sportswear and Inside Cheerleading magazine, two of the leaders in the cheerleading industry, partnered in a "Spirit of Spreading Cheer" outreach, benefitting an Atlanta-area special needs cheerleading team.
Reading, Pa.-based GK Elite Sportswear, a top manufacturer of cheerleading and gymnastics apparel and accessories, teamed with Inside Cheerleading magazine to identify a deserving program to be the recipient of a broad range of items, ranging from apparel to cheer novelties and accessories such as winter hats and gloves, ribbons, hairpieces, book covers, luggage tags, cheer briefs, and warm-up suits. This year's recipient is All Star Panther Special Twist, based out of Alpharetta, Ga.
Special Twist was founded in 2004 by then eight-year-old Rachel Van Dyke and her mom Stacey as Rachel's community service project. The team was put together to give special needs children the chance to participate in cheerleading and was designed to promote self-esteem, team building, strength and endurance, and of course, to provide an outlet for a fun activity. The program is run out of Alpharetta's All Star Panthers facility which donates space for practice. Special Twist is free to participants and their families and no one is turned away. The team will compete a full season this year like other All Star cheerleading programs and plans a trip to Orlando, Fla. to compete at the US Spirit National Championships.
"We have learned over the last nine years that cheerleading, like many other sports, should be open to everyone, regardless of physical or mental capabilities," said Special Twist Executive Director Stacey Van Dyke. "We do not charge for our program and the gym graciously donates space for us to run it, because our families and participants require a variation of assistance, from medical to financial. I speak for all my families, in thanking GK Elite and Inside Cheerleading magazine from the bottom of our hearts for the generous gifts. Words cannot truly express our appreciation."
"In the spirit of cheer and all that it stands for, we wanted to highlight a dynamic program that is making a difference and 'Special Twist' exemplifies that spirit," said GK Elite Sportswear Marketing Manager Kelly McKeown. "With the products we're providing, the program will have some items to use personally as well as some for fundraising efforts in this upcoming year. We wish 'Special Twist' all the best in 2009 and beyond!"
"With so many people facing hard times this holiday, we wanted to put a smile on the faces of kids and GK Elite's generosity is helping make that possible," said Inside Cheerleading magazine President Chris Korotky. "Stacey and her daughter Rachel have done amazing work in building this program and making it possible for everyone who has a desire to participate. We were impressed with Stacey's vision for ultimately building a national team that will perform across the country and bring awareness to special needs teams."
GK and Inside Cheerleading magazine plan to make the Spirit of Spreading Cheer initiative an annual tradition.
About GK Elite Sportswear
GK Elite is the most recognized manufacturer of gymnastics apparel in the world. GK is recognized around the globe for superior quality, styling, and fit, and friendly, knowledgeable customer service. With the release of fifteen catalogs a year and FREE Custom Design Services, GK offers more Workout and Team apparel choices than anyone else.
GK is the Choice of Champions. Its apparel has been seen on many top National and Olympic teams including, U.S., Australia, Ukraine, Germany, and Belarus. In addition to these National teams, GK is proud to be endorsed by All Around Olympic Gold Medalist Nastia Liukin as well as Olympic medalists Shawn Johnson, Chellsie Memmel and Jonathan Horton. The company just celebrated its 27th year in business. For more information about GK Elite, visit http://www.gk-elitesportswear.com.
About Inside Cheerleading Magazine
Inside Cheerleading is an Atlanta-based publication with nationwide distribution. Designed to help cheerleaders train, perform, compete, and live cheerleading to the max, the magazine includes profiles of cheerleaders at the school, All Star and college level, coverage of events and competitions, Style Watch, plus the latest news and inside buzz. And each issue is jam-packed with great photos of stunts, pyramids, tumbling, and candid photos. For more information about Inside Cheerleading, visit http://www.InsideCheerleading.com.
For more information on Special Twist, contact Executive Director Stacey Van Dyke at 678-468-9471.
###