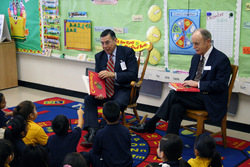 Pearson was privileged to work with HISD on this important effort to raise awareness of the literacy gap--a national problem that can be overcome.
Houston, TX (PRWEB) December 16, 2008
More than 30,000 children from the largest school district in Texas took part Tuesday, Dec. 9 in a major effort to set the record for the number of people reading the same book on the same day across Houston.
The day-long event was designed to bring attention to the importance of reading early in a child's life in conjunction with Jumpstart's Read for the Record Campaign. The Houston Independent School District(HISD) was slated to participate in Read for the Record, the world's largest shared reading experience, on Oct.2 but had to postpone its participation as a result of Hurricane Ike.
HISD and Pearson officials planned the record-breaking event to bring awareness to the literacy gap and to demonstrate the importance of reading to young children.
"Our goal was to help children and their families get excited about reading. Every child's academic success begins with reading," said Dr. Abelardo Saavedra, HISD Superintendent. "Pearson's generous book donation is helping us to drive home the message about the importance of reading, and we appreciate their support of this effort."
Superintendent Saavedra and Paul McFall, senior vice president of curriculum for Pearson, kicked off the day by reading the popular children's book Corduroy, the Read for the Record Campaign's official book, to pre-Kindergarten and Kindergarten students. The students were enthralled by the children's classic and had many questions and comments for the guest readers.
At other HISD schools across Houston, parents, public officials, business executives from companies such as Pearson, and even Santa Claus read Corduroy to children in their classrooms.
The Pearson Foundation provided 1,800 copies of Corduroy in English and Spanish and related online instructional resources such as lesson plans and classroom activities to help HISD reinforce early literacy skills.
The publication of Corduroy was underwritten by the Pearson Foundation, ensuring that 100% of the proceeds directly benefit Jumpstart's work with at-risk children. Additionally, each book purchased online was matched with a donation from the Pearson Foundation to support Jumpstart's early education programs for children in low-income communities across the nation.
"Research shows that poor reading skills early in a child's life contribute significantly to the widening of the achievement gap. Children are more likely to struggle in school if they rarely or ever are read to at home," said Pearson Foundation President Mark Nieker. "Pearson was privileged to work with HISD on this important effort to raise awareness of the literacy gap--a national problem that can be overcome."
For more information on Pearson's involvement in Jumpstart's Read for the Record across the country and around the globe, visit http://www.pearsonfoundation.org.
About the Pearson Foundation
The Pearson Foundation extends Pearson's commitment to education by partnering with leading nonprofit, civic, and business organizations to provide financial, organizational, and publishing assistance across the globe. The Foundation aims to make a difference by sponsoring innovative educational programs and extending its educational expertise to help in classrooms and in local communities. Pearson is a long-time supporter of Jumpstart. Jumpstart and Pearson were recognized for their collaboration with the 2006 Cause Marketing Halo Award and with Boston Business Journal's 2008 Corporate Philanthropy Award for Education Partner of the Year. For more information, visit http://www.pearsonfoundation.org.
About Pearson
Pearson (NYSE:PSO), the global leader in education and education technology, reaches and engages today's digital natives with effective and personalized learning, as well as dedicated professional development for their teachers. This commitment is demonstrated in the company's investment in innovative print and digital education materials for preK through college, student information systems and learning management systems, teacher professional development, career certification programs, and testing and assessment products that set the standard for the industry. The company's respected brands include Scott Foresman, Prentice Hall, Addison Wesley, Benjamin Cummings, PEMSolutions, Stanford 10, SuccessNet, MyLabs, PowerSchool, SuccessMaker and many others. Pearson's comprehensive offerings help inform targeted instruction and intervention so that success is within reach of every student at every level of education. Pearson's commitment to education for all is supported by the global philanthropic initiatives of the Pearson Foundation. Pearson's other primary businesses include the Financial Times Group and the Penguin Group. For more information, go to http://www.pearson.com.
About Jumpstart
Jumpstart is a national early education organization that works toward the day every child in America enters school prepared to succeed. Through extraordinary attention in yearlong one-to-one relationships, Jumpstart inspires children to learn, adults to teach, families to get involved, and communities to progress together. Headquartered in Boston, Jumpstart pairs 4,000 trained adults one-to-one with preschool children in need of assistance. During the 2008-2009 program year, Jumpstart is serving 15,000 children across 20 states, in partnership with 300 early learning centers and nearly 74 universities and colleges throughout the country. Jumpstart's national sponsors include American Eagle Outfitters, AmeriCorps, Pearson, Sodexo and Starbucks. Jumpstart is the recipient of the Fast Company/Monitor Social Capitalist Award (2004, 2005, 2006, 2007 and 2008) and the Committee to Encourage Corporate Philanthropy's Directors Award. For more information, visit the Jumpstart Web site at http://www.jstart.org.
Contact:
Kate Miller
212.641.6115
kate.miller @ pearson.com
###