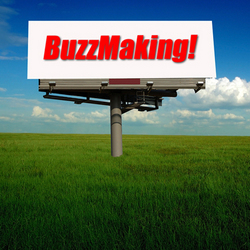 BuzzMaking: Socializing Your Way to Market Tangibility in 90 Days.
Washington, DC (PRWEB) January 5, 2009
Widely recognized B2B marketing expert Toby Younis today announced a free webcast entitled "BuzzMaking: Socializing Your Way to Market Tangibility in 90 Days." Designed for executives in small- to medium-sized business-to-business companies, the webcast shows them how to leverage limited marketing resources while working towards a challenging 2009 revenue goal.
Attendees will discover how B2B companies can easily leverage social bookmarking, video publishing, and search engines to increase their market visibility and improve their market credibility enough to become "tangible" to their prospective customers.
In addition, attendees will learn how to:

Quickly and easily produce, publish and promote BuzzMaking content
Write keyword dense BuzzMakers
Leverage an inexpensive 30-second video into additional visibility
Transform an average press release into a viral dynamo
Get from BuzzMaking to sales leads
Attendees will also see a BuzzMaking case study of a small B2B company that generates 30 to 60 qualified leads every month from 9 month old BuzzMakers.
"The recession is going to make 2009 rougher and tougher than 2008," says Younis. "And, 2008 wasn't easy for marketing professionals. Management teams are cutting budgets, while still setting what they believe are achievable sales goals. Our 'BuzzMaking' strategies enable them to get the most bang for every one of the marketing dollars they spend."
The webcast, on Tuesday, January 6, 2009 at 12:00pm EST, is free, but requires pre-registration. Interested executives and managers can register by clicking here. or by going directly to the BrightTalk.com Webcast Registration Page.
About B2B Marketing Pro: B2B Marketing Pro is a thought-leader in providing innovative marketing programs to executives in B2B companies with limited marketing budgets and challenging sales goals.
###