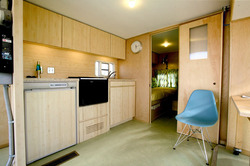 a symbol of transformation and possibility for the communities of the Gulf Coast.
New York, NY (PRWEB) December 19, 2008
Emergency Response Studio, by Paul Villinski, is a solar-powered, mobile artist's studio, repurposed from a salvaged FEMA-style trailer. This sustainably re-built, off-the-grid living and work space is designed to enable artists to "embed" in post-disaster settings, and respond and contribute creatively. Villinski conceived the project in response to the devastation of post-Katrina New Orleans as "a symbol of transformation and possibility for the communities of the Gulf Coast." ERS will be exhibited in Prospect .1 New Orleans, the largest exhibition of international contemporary art ever organized in the United States, which opens throughout the Crescent City November first, 2008.
The project playfully and purposefully deconstructs the template of the now iconic FEMA trailer. Villinski gutted a 30-foot Gulfstream "Cavalier", removing materials known to off-gas formaldehyde, and rebuilt it with "clean tech" solutions. The studio is entirely powered by a 1.6 kilowatt photo-voltaic solar system featuring an array of nine large solar panels which tilt upward from the trailer's roof to face the sun. Additional power comes from a micro-wind turbine spinning atop a 40-foot high aluminum mast. Eight large batteries, each weighing as much as an average man, store this power and are seen underfoot through a clear Lucite floor section as one steps into the trailer. A large wall section cranks down to become a deck, a ten-foot, geodesic skylight provides daylight and expansive headroom in the work area, and a thirteen-foot wall section has shed its aluminum siding in favor of clear polycarbonate sheathing. Symbolically, the structure is expansive, both opening outwardly and inviting the outside in, enabling free exchange between artist and environment in a collaboration of reinvention.
ERS has been reconstructed with sustainable, green materials -- recycled denim insulation, zero-VOC paints, bamboo cabinetry, compact fluorescent lighting, reclaimed wood and floor tiles made from linseed oil -- minimizing the structure's carbon footprint and enhancing quality of life for its inhabitants. Though designed as an artist's studio, the Emergency Response Studio also serves as a prototype for self-sufficient, solar-powered mobile housing, and explores the application of sustainable materials in the construction of trailers and other forms of temporary housing.
Paul Villinski (http://www.paulvillinski.com) invited Cristina Hadzi, of residential interior design firm Cristina Hadzi Interiors (http://www.hadzidesign.com), to make the interior space of the mobile more welcoming and create a color scheme that complemented the overall vision of the project. Miss Hadzi guided him in selecting the flooring, chairs, and co-ordinated fabrics for draperies and bedding, and contributed a quick second opinion as needed. Mr. Villinski's directive for the small sleeping quarters was "fun and mod". Mr. Villinski asked Margaret Scheffs, owner of Blauen Ltd. (http://www.blauen.com), a high end custom linen company, to create decorative and functional bedding and draperies for the sleeping area and little bathroom. Funky yet sophisticated flanged pillows and a maching reversible quilt, and draperies to match, were quickly designed and produced in a timely manner for the trailer's voyage to New Orleans. Of the project Miss Hadzi said "it was wonderful to be part of, and to witness the spirited collaborative efforts of everyone involved."
Cristina Hadzi Interiors (http://www.hadzidesign.com) opened in May 1995 after she apprenticed with leading interior designers Robert Currie, Richard Keith Langham, and T. Keller Donovan. Thru these associations she developed a strong belief in encouraging her clients to realize their own environmental requirements: she expertly guides the in finding fluid, functional, and creative solutions. Her practice includes private residences in Manhattan, London, and Paris, as well as summer homes in the Hamptons and Connecticut.
Among other projects, Cristina Hadzi Interiors is presently renovating and furnishing a 3500 square foot penthouse apartment Riverhouse (http://www.the-riverhouse.com), a high performance oxygen green residence designed by Polshek Partners, Ismael Leyva, and David Rockwell Design, in Battery Park, New York City.
Emergency Response Studio will be exhibited from November 1 - January 18th on the grounds of the New Orleans Museum of Art, 1 Collins Diboll Circle, New Orleans, LA. For more information, please contact Cristina Hadzi Interiors at 212-809-2021 or visit http://www.hadzidesign.com. The project website is http://www.emergencyresponsestudio.com.
###