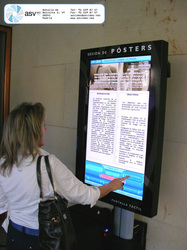 Maastricht, The Netherlands (PRWEB) December 18, 2008
Scala, the leading provider of end-to-end solutions for the connected signage market, today announced ASVideo, a Scala Certified Partner in Madrid, Spain has developed a creative solution of centrally managed, interactive digital posters that facilitate information transfer and encourage discussions between medical professionals.
Medical societies around the world need a more effective solution to communicate medical techniques or specific case dynamics with other medical professionals. To meet this challenge, ASVideo, a Scala Certified Partner in Madrid, Spain, created digital posters designed to facilitate information transfer and encourage discussions with other medical professionals.
ASVideo, with their vast knowledge of audio-visual systems for the medical and pharmaceutical industries, solved the dilemma by applying new technologies and its experience in digital signage. The solution to the problem was an interactive digital poster displayed on a 42" digital screen in portrait orientation.
ASVideo replaced typical printed posters with centrally managed and database driven interactive digital posters. Each poster is composed of a 42" Panasonic screen, oriented in portrait mode, and connected to a digital signage network where medical professionals could search for relevant information with just a touch of the screen.
The screens were installed in meeting places, such as medical congresses or professional meetings. Participants could search the medical database at each screen and learn new medical techniques or inquire about case dynamics for individual cases. Content available from the database includes text, graphics, medical scans and videos to better deliver a multimedia solution for the intended information; something traditional printed posters could not provide.
An added feature of the poster network is to facilitate a voting system that allows participants to vote on their favorite content. The vote is registered through a sensory bar code and activated by the bar code on the medical professional's conference identification badge. The system compiles the votes and reports the results.
To enhance the effectiveness of the digital posters, branded medical and pharmaceutical ads are displayed on the posters providing exposure for industry vendors. Each of these brands provides sponsorship for the poster network and facilitates the flow of information to medical professionals at the event.
Each poster is configured with a Panasonic 42" screen and overlaid with an interactive touch frame from IST, a mounting solution, a media player that serves as the Scala Player, a bar code sensor and speakers; all operating on a wireless network that can service up to 15 digital posters. Each digital poster is centrally managed from a remote server and provides the content the user requests on demand.
Until the introduction of digital interactive posters, hundreds of printed posters were displayed in conference rooms waiting for medical professionals to view and discuss with their colleagues. The obvious drawback of this solution was the posters only displayed one topic with no other supporting content and new posters had to be produced for each meeting. The process was difficult to manage and expensive to implement.
The new digital posters provide dynamic messaging allowing for real-time updates of the content and integration of multimedia files for topic support.
The new digital posters have been successfully deployed at the:

National Congress of Otolaryngology in Madrid, 2007 where 1800 attendees viewed 8 digital screens accessing a database of 450 posters.
Emergency National Congress of Salamanca in 2008 where 1500 attendees viewed 5 digital screens accessing a database of 400 posters.
Residents of Ophthalmology Congress in 2008 where 200 attendees viewed 4 digital screens accessing a database of 200 posters.
Congress of the European Society of Laringuectomia in Barcelona where 400 attendees viewed 3 digital screens accessing a database of 200 posters.
National Congress of Ophthalmology in 2008 where 1500 attendees viewed 6 digital screens accessing a database of 200 posters.
National Congress of Otolaryngology in Tarragona, 2008 where 1800 attendees viewed 8 digital screens accessing a database of 450 posters.
National Congress of Surgery in Madrid, 2008 where 4000 attendees, viewed 10 digital screens accessing a database of 1000 posters.
About ASVideo
ASVideo was founded in 1989 and specialized in video production, edition and content creation for companies of all sizes. The principal activity was the creation and production of content for pharmaceutical companies and hospitals.
In 2003, ASVideo created a new division specific and dedicated to the content creation for the digital signage market. ASVideo has focused on interactive applications, as the key tool to keep and maximize attention on the content displayed on each screen, which cannot be effectively achieved by solely displaying passive content.
ASVideo wants to fulfil the requirements of the digital signage market by focusing its business on providing high quality content to maximize the ROI on screens and digital signage networks around the world.
In 2004, ASVideo chose Scala InfoChannel as its core Digital Signage application; since it is the only one covering all of AS Video's stringent the requirements for high quality content creation, management, distribution and playback.
Today, ASVideo continues to create content solutions for the digital signage industry throughout the world. More information is available at http://www.asvideo.net.
About Scala
Scala is a leading global provider of digital signage and advertising management solutions. By combining digital and traditional signage systems, Scala has become the world's first connected signage company, allowing customers to create, manage and distribute both traditional and digital signage via one software platform. The company's solutions are used in retail, education, entertainment, government and other industries for diverse applications such as retail advertising networks, corporate communications (employee TV), traditional and digital billboards, digital menu boards, digital posters, cable TV, hotel lobby signage, gas pump toppers, outdoor advertising, interactive touch-screens and kiosks, etc. Scala pioneered the digital signage industry and today drives over 70,000 screens worldwide; more screens than all competitors combined. The company's digital signage platform customers include Rabobank, IKEA, Burger King, T-Mobile, Virgin MegaStore, EuroDisney, McDonalds, Warner Brothers, Ericsson, The Life Channel, Rikstoto, FuelCast, Repsol, Shell, NorgesGruppen and thousands more. The company's advertising management customers include CBS Outdoor, Clear Channel Outdoor, Magic Media, Reagan, Adams Outdoor Advertising, and many more. Scala is headquartered near Philadelphia, USA and has subsidiaries in Canada, The Netherlands, France, Norway, Japan and also over 450 partners in more than 60 countries. More information is available at http://www.scala.com.
©2008 Scala, Inc. 350 Eagleview Blvd. Exton, PA 19341. Scala, InfoChannel, and the Exclamation Point Logo are registered trademarks of Scala, Inc. All other trademarks are the property of their respective organizations.
###