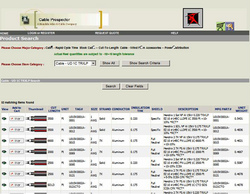 Milford, NH (PRWEB) December 19, 2008
Hendrix Wire & Cable, a premier provider of high quality overhead and underground power distribution products, introduces Cable Prospector, a new website that serves as a general marketplace for those looking to quickly and accurately place orders for utility products.
Cable Prospector allows customers to purchase utility products any time of day, every day of the week. Orders are placed and immediately included in the production schedule at Hendrix Wire & Cable's manufacturing facility. This reduces the time it takes to place a normal purchase order via fax, and immediately begins counting down on the guaranteed lead time.
Cable Prospector is accessible to the public; however, previous customer users will login to view their customized account. An input of specific parameters for products is required to perform a search detailing all available options. Even more conveniently, existing customers can access a list of their commonly purchased utility products to select which products, in what quantities, are to be added to their shopping cart. If in need of a product that cannot be found in the directory of inventory, a quote can be requested from Hendrix Wire & Cable as well.
Customers that have used Cable Prospector find the site easy to use; the system does all the work and sends orders directly to the production floor. It shows the customer exactly what they want to buy and provides the price and delivery information.
For more information or to make an order, please visit http://www.cableprospector.com.
About Hendrix Wire & Cable
Headquartered in Milford, NH, Hendrix Wire & Cable sets the standard for high-quality overhead and underground power distribution products. The company was founded in 1951 by Bill Hendrix to manufacture and market his unique invention: an innovative overhead electrical distribution system (spacer cable) that solved the reliability problems local utilities were experiencing. Today, the Hendrix Wire & Cable product line includes underground cable, spacer cable, tree wire, insulators, and other overhead accessory products, marketed through three separate operating divisions: Aerial & Cable Systems, Molded Products, and Underground Cable.
ISO 9001-certified Hendrix Wire & Cable is a member company of The Marmon Group, an international association of more than 125 business units that operate independently within diverse business sectors. Member companies have collective revenues of $7 billion. The Marmon Group is owned by Berkshire Hathaway Inc. More information about the company is available at http://www.hendrix-wc.com.
###