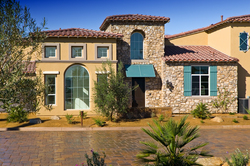 They see that the accelerated marketing our online auctions offer can speed up the process of clearing inventory, allowing them to focus on newer projects.
Newport Beach, Calif. (PRWEB) December 18, 2008
The nation's leader in online real estate auction marketing, LFC Group of Companies, has announced the launch of a new auction campaign on its residential real estate website, Freedom Realty Exchange (http://www.FRE.com/265R2). The auction, a builder closeout of 16 luxury condominiums located in the heart of Palm Desert, California, begins December 17, 2008 and continues into the New Year with a bid deadline of March 5, 2009.
The auction comes at an ideal moment for desert real estate, as predicted at the recent California Desert Association of Realtor's 2009 industry forecast. There, Patrick Veiling, president and founder of Brea-based Real Data Strategies Inc., presented encouraging words for buyers, saying "2009 will be the absolute best purchase opportunity in the desert that we have seen for a long time." Add to this forecast the convenience and transparency of LFC's auction process and there has never been a better time to purchase a piece of the majestic Southwest.
Brava is a luxury gated community built with the comfort and well being of its residents in mind. The community features unique architectural design, inspired by the charming, rustic villages of Tuscany. With an ideal location at the prominent crossroads of Country Club Drive and Monterey Ave., Brava lives up to the area's impressive standards by offering numerous amenities, all of which encourage a healthy, active life for residents. Two pools, a clubhouse, "Toscana" paver streets, and immaculate landscaping all afford residents the opportunity to live a country club lifestyle without the exorbitant association costs that most Palm Desert communities demand.
The 16 condominiums ranging in size from +/-1,865 to +/-2,200 square feet, feature gourmet kitchens equipped with GE Profile stainless steel appliances, a cooking island, and full pantry, spacious living spaces, and 2-3 bedrooms. One of the two models available even features two master bedrooms, one of which includes a retreat space perfect for creating your own relaxing space for escape. Showcasing varied combinations of structural details, including a covered deck, outdoor fireplace, and patio, the properties were designed with a customized, personal approach.
Situated in the center of the Coachella Valley, Brava is close to countless golf courses and resorts, as well as impressive mountains and lakes perfect for a relaxing picnic or an energizing outdoor excursion. Local restaurants, shopping centers, and cultural centers keep life in Palm Desert full and diverse. It won't take long to see all that Brava and Palm Desert have to offer!
Having already firmly established a reputation as a leader in architectural vision and community development throughout the Coachella Valley, and with dozens of successful projects to its name, Brava's developer recognized the smart and innovative process behind LFC's auctions, a program matching their own commitment to creativity and excellence. The well-regarded regional builder concluded that an online auction would be a proactive, effective method to clear remaining inventory in the current tepid home buying climate.
"Brava's developer has the foresight to act confidently, staying ahead of the game with a keen insight into keeping buyers happy and moving development forward in any kind of market conditions," says William W. Lange, LFC Group of Companies' CEO. "They see that the accelerated marketing our online auctions offer can speed up the process of clearing inventory, allowing them to focus on newer projects."
The recipient of several local awards and overwhelming praise for its excellence, Brava is the ideal community for living the much coveted desert resort lifestyle. Visit http://www.FRE.com/265R2 for more details about the properties, including how to place a bid.
Freedom Realty Exchange® - a member of the LFC Group of Companies
For more than 30 years, the LFC Group of Companies has served numerous Fortune 500 companies, real estate developers, investors, financial institutions and government agencies by auction-marketing thousands of commercial, industrial, land and residential properties with an aggregate value well in excess of $5 billion. http://www.FRE.com
###