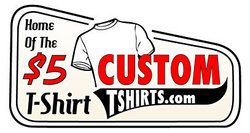 Cheshire, CT (PRWEB) December 24, 2008
Wondering why we are offering a custom t-shirt trial for just five bucks?* The answers are easy!
First an almost free, custom t-shirt hasn't been available for decades. In these tough economic times, a five buck, budget busting, custom t-shirt can't be beat. We also think that after you use our Online Design software and see the finished t-shirt, you will be amazed and come back for more.
Few companies come close to offering the vast array of custom t-shirts and personalization services that http://www.CustomTshirts.com does. Our investment in digital, direct-to-garment printing, allows us to offer vibrant FULL color designs and photo prints never before offered-without minimum order or setup restrictions!
Our top-of-the-line, pre-shrunk, 6.1 oz. 100% cotton Gildan t-shirt is the best selling t-shirt in America. Customers can buy the first, almost free custom t-shirt for $5.* and get additional t-shirts for 25% off our regular price.
Prefer a heavyweight 9.5 oz., 80% cotton, 20% poly, custom Gildan crewneck sweatshirt instead? You can try one for just $15.* which is 50% off our regular price. You can get additional sweatshirts for 25% off our regular price.
Professional looking design is what makes a custom t-shirt special and we know not everyone has graphics capabilities. So that is why we supply thousands of t-shirt design templates that can be customized with personal text and colors. Of course you can also upload your own photo or design. http://www.logosportswear.com/customtshirtdesigns.php
Great looking custom t-shirt prints won't make your day if you do not meet your deadline or event date. We are determined to offer the fastest turnaround in the industry. We have streamlined our in-house graphics design, production and fulfillment processes and offer 4-6 day normal turnaround. Need it faster? You can upgrade to our premium RushProcess services in as little as 1-2 days.
We hope you will take advantage of this custom t-shirt trial and join our community of Online Designers. Already over 1.2 million designs have been created. Click this link to see some of our community's designs, http://www.logosoftwear.com/bestdesigns.php
*Customize our finest 100% cotton white t-shirt for just $5. or sweatshirt for just $15. plus shipping (ships in 4-6 business days). One trial t-shirt or sweatshirt per customer. Additional shirts available at 25% OFF regular price. Upgrade to ash grey or black colors for an extra $5. Second print placement (back) for extra $5. Promotions can't be combined.
To order a almost free custom t-shirt click:
http://www.customtshirts.com/almost-free-custom-tshirt-trial
About LogoSportswear
LogoSportswear, headquartered in Cheshire, CT, is a leader in online, customer-designed sportswear. We make ordering custom products easy. We offer one-stop shopping for the broad array of products and personalization services that we offer. Our in-house graphic design, embroidery, screenprinting, and digital printing offers customers convenience and quick response--without minimum order or set-up restrictions.
Our on-demand retail and technology platform enables users to Design Online, Buy, Share and Sell customer-designed sportswear.
Websites:
LogoSportswear.com, CustomTshirts.com, TeamSportswear.com,
SchoolSportswear.com
Contact Information
Frank Nevins, President
LogoSportswear
500 Cornwall Avenue
Cheshire, CT 06410
(203) 272-4883

###