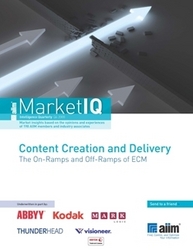 Content Creation and Delivery - The On-Ramps and Off-Ramps of ECM
Silver Spring, MD (Vocus) December 19, 2008 -–
New AIIM research found that 54% of organizations manually re-key some of the content they receive from customers, suppliers, and partners. Nearly 40% of respondents say they don't scan any of their incoming documents, implying that they still haven't tapped into the enormous benefits of converting paper documents into a digital stream, despite the fact that these technologies have demonstrated clear ROI from process automation for over a decade. According to AIIM, this represents a wasted opportunity to reduce transaction processing costs. Scanning invoices and order forms, and using modern capture techniques to automatically match them against data held on internal systems can considerably improve productivity and speed of response. As a positive endorsement of modern recognition techniques, over 34% of organizations polled convert at least one in ten of their scanned documents into editable text, with 16% converting more than half.
The AIIM Market IQ report: "Content Creation and Delivery - The On-Ramps and Off-Ramps of ECM" can be downloaded for free at http://www.aiim.org/capture
The AIIM survey also addressed content publishing at the output end of enterprise content management (ECM). For the most part, organizations understand the benefits of re-purposing content — with 57% citing "reduced costs", 51% "more effective communication" and 45% "tighter control of content" as core benefits. The translation of these benefits into action is only at its earliest stages, with only 41% saying they are "somewhat" or "extensively" involved in content repurposing/recombination.
Many cutting-edge organizations cite the benefits of XML in improving the agility of content delivery. The survey suggests that this recognition is not yet widespread in the larger business community. Only 16% of organizations say they have deployed XML-based publishing within their organization, indicating a significant opportunity for organizations to improve how they repurpose content and deliver it through multiple channels.
According to Doug Miles, AIIM Director of Market Intelligence, "This survey shows that many companies are paying insufficient attention to the process automation opportunities presented at each end of the content management process. On the input side, data capture from scanned forms and invoices can feed directly into transactional processes, and on the output side, the compilation of multi-purpose and multi-variant documents from text components can dramatically automate many publishing processes."
The AIIM Business Process Management (BPM) Certificate training program is specifically focused on how these document-centric processes can produce a very fast return on investment, which AIIM feels is something of an imperative in the current economic climate. Information about AIIM's six Certificate Training Programs can be found at http://www.aiim.org/training.
The AIIM Market IQ report: "Content Creation and Delivery - The On-Ramps and Off-Ramps of ECM" can be downloaded at http://www.aiim.org/capture and was supported by ABBYY, Kodak, Mark Logic, Thunderhead and Visioneer.
About AIIM
AIIM (http://www.aiim.org) is the community that provides education, research, and best practices to help organizations find, control, and optimize their information.
For over 60 years, AIIM has been the leading non-profit organization focused on helping users to understand the challenges associated with managing documents, content, records, and business processes. Today, AIIM is international in scope, independent, implementation-focused, and, as the representative of the entire enterprise content management (ECM) industry - including users, suppliers, and the channel - acts as the industry's intermediary.
AIIM was founded in 1943 as the National Microfilm Association and later became the Association for Information and Image Management. AIIM is also known as the Enterprise Content Management Association.
Subscribe to AIIM RSS feeds at http://www.aiim.org/feeds
Subscribe to industry press release feeds at http://www.aiim.org/ResourceCenter/RSSFeed.aspx?Type=PRESSRELEASES
For more information, contact:
Beth Mayhew
Director, Marketing
301.755.2681
bmayhew(at)aiim.org
Doug Miles
Director, Market Intelligence
+44.1905.727600
dmiles(at)aiim.org
AIIM – 1100 Wayne Avenue, Suite 1100, Silver Spring, MD 20910 | 301.587.8202 | aiim.org
###