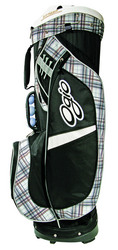 We've been designing gear bags for more than 20 years, and know what a true athlete wants by her side
Bluffdale, Utah (Vocus) December 19, 2008
Read into it what you will, but OGIO's newest golf bag is not named to get attention; it is styled to command it. The new OGIO Cougar is a confident bag designed just for women, demonstrating a seasoned appreciation for the sport.
The Cougar cart bag (MSRP: $160.00) weighs in at only 6.6 lbs. yet is loaded with high-value features - the kind which only OGIO can provide. A proprietary 10" Uniter top, made popular for its intelligent 15-club organization, tops off individual full-length club dividers. The company's patented Ball Silo delivers golf balls through its side-mounted rail system, while additional pockets - six in all - protect gear including cell phones, rain suits, and other valuables.
"We've been designing gear bags for more than 20 years, and know what a true athlete wants by her side," says Tom Gocke, OGIO's global vp of golf. "Our Cougar is not an afterthought accessory designed as an add-on to a clothing or shoe line. This is a bag designed from the bottom up, for a woman who takes her sport seriously, without necessarily taking herself as such."
The Cougar's styling also demonstrates grown-up sophistication. To date, its White Plaid (a plaid-on-black combination) already has pre-sold at record levels through golf shops and specialty sporting goods stores nationwide. The bag is also available with Lavender blocking on a black-and-white background, as well as a Brown Plaid accented with soft touches of pink.
In addition to the Cougar, OGIO's 2009 women's golf collection features remixed versions of:

The Shadow Cart Bag (MSRP: $210.00 ) This full-featured cart bag stands 36.5" tall and weighs in at 7.6 lbs. Tucked within this sleek silhouette are a gadget-lovers' bounty of details including a Zipperless Ball Pocket, TORQ cart stability strap, individual full-length dividers, and nine pockets - seven of which are zippered. The Shadow is available in Greyhound (hounds tooth check grey/white/black), Black Vines and Cherry Vines.
The Diva Stand Bag (MSRP:$180.00 ) Last year's best-selling women's model is back again, and more fierce than ever, with the addition of OGIO's catch-free ArcLite stand system and an internal Lift Grip. The 36" tall bag offers eight pockets, including a removable accessory pouch, plus devoted space for many of the game's accessories including gloves, putter covers, pens, scorecards, umbrellas, and more. The Diva is available in White Plaid, Pink, and Sand.
The Featherlite Stand Bag (MSRP: $140.00): Designed by a woman, for women, this bag delivers powerful features. The Woode top caps this bag in a "Lite" model, while full-length three way dividers protect shafts inside the bag. OGIO's proprietary Crossbow Lite shoulder strap system facilitates comfortable transport off course and between holes. Available in Cherry Vines; Greyhound; and Lavender.
OGIO's 2009 women's golf bags are shipping now to sporting goods, green grass, and specialty golf shops nationwide. For more information about OGIO's 2009 golf lineup, visit http://www.ogio.com.
EDITOR'S NOTE: OGIO is based out of Bluffdale, Utah - a mere 24 miles away from the BYU Cougars | For more information about OGIO, or to request samples, please contact Kelly M. Mooney / This Just In PR & Marketing at 503.722.4080, 801.450.1009 | Hi-res images are available online for immediate use by visiting http://www.ogio.com/shop_ogio (Click on "OGIO Resources" link on lower left-side of page and enter the username: ogio07@ogio.com and password: ogio07).
CONTACT: Kelly M. Mooney
This Just In PR & Marketing
503.722.4080 (work)
801.450.1009 (cell)
###