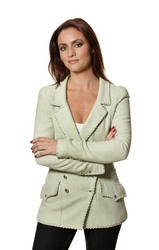 Dover, DE (PRWEB) December 20, 2008
With over 450,000 members, LeBootCamp.com, created by Celebrity Coach Valerie Orsoni, has officially become the #1 online coaching program in French-speaking countries: France, Canada, Switzerland, and Belgium.
This proven weight loss coaching program has also been adapted to the US market, located at http://www.lebootcamp.us, providing online coaching for less than $1 a day. With daily personalized support at the heart of the program, LeBootCamp is an all-encompassing approach to weight loss, endorsed by the media, famous athletes, and medical professionals.
LeBootCamp, created by Celebrity Coach Valerie Orsoni, has been featured in numerous print medias worldwide, as well as several highly-acclaimed radio and TV shows. Orsoni is an inspirational, results-oriented, dynamic, and sought-after international speaker on motivation, nutrition, and healthy and permanent weight loss.
The program is based on the concept of making gradual lifestyle changes in order to lose weight permanently, without having to take sudden, dramatic steps, and has been designed with many interactive tools in order to make the client's weight loss journey enjoyable and successful. LeBootCamp has also been adapted for the UK (http://www.lebootcamp.co.uk) and Australia (http://www.lebootcampaustralia.com), with more versions soon to be released in other languages.
Program Features:

Daily emails
Exclusive videos
Over 130 tips per month
Unlimited questions to your coach
Weekly meal plans
Exclusive yummy recipes
Easy and efficient exercises
Private Member Space with over 20 interactive tools
Personal blog
LeBootCamp Community forums and chats
Free meetings with Valérie Orsoni, Celebrity Coach
Gifts, specials, and more!
USA: http://www.lebootcamp.us
UK: http://www.lebootcamp.co.uk
Australia: http://www.lebootcampaustralia.com
France: http://www.lebootcamp.com
###