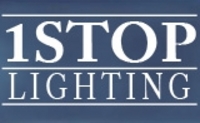 We see this affiliate program as a great way to cultivate an online sales force while at the same time increasing brand recognition for 1STOPLighting.com
Sacramento, CA (PRWEB) December 22, 2008
1STOPLighting.com, a website that sells lighting fixtures, such as outdoor lighting, track lighting, chandeliers, lamps and more, has just launched an affiliate program on the ShareASale Affiliate Network. 1STOPLighting.com is one of the largest online suppliers of lighting fixtures and accessories. Through this new affiliate program, 1STOPLighting.com hopes to grow its customer base and simultaneously strengthen its brand recognition. To do this, 1STOPLighting.com will pay its affiliates a generous commission for all sales stemming from their marketing efforts. "We see this affiliate program as a great way to cultivate an online sales force while at the same time increasing brand recognition for 1STOPLighting.com," said Kristina Sparre, Business Analyst for 1STOPLighting.com
1STOPLighting.com has teamed with MoreVisibility, a four-time INC 500/5000 nominee and leader in Search Engine Optimization, Web Design & Interactive Marketing to help launch and manage their affiliate program. "MoreVisibility is excited to work with 1STOPLighting.com. 1STOPLighting.com provides consumers with one of the largest selection of lighting fixtures and accessories on the web. They provide a commitment to excellent prices and customer service, which should help propel this new distribution channel and compliment current marketing initiatives," said David Green, Affiliate Program Manager at MoreVisibility.
By joining the 1STOPLighting.com affiliate program, affiliates have the potential to earn unlimited commissions. A dedicated affiliate management team is in place to ensure affiliates will have the material and support needed to run a successful marketing campaign.
About 1STOPLighting.com
1STOPLighting.com is built on 40 years of lighting experience and over 10 years of online, e-commerce experience. What sets 1STOPLighting.com apart from its competitors is their vast selection and superior customer service. 1STOPLighting.com has arrangements with all of the major lighting manufacturers to ensure they can deliver the best price possible to the consumer. In addition to a best price guarantee, they offer a quick delivery guarantee that pays you if your order does not arrive by a specified date, extended warranties and free shipping on all orders over $200. Customers can place an order online through their safe and secure checkout process or they may place an order through a toll free number (1-866-203-5392) and speak with an ALA trained agent.
About MoreVisibility
Founded in 1999, MoreVisibility is one of the world's leading Search Engine Marketing, Search Engine Optimization and web design firms, having helped hundreds of Fortune 1000 companies and small businesses increase qualified traffic to their Web sites. They are also actively involved in Social Media Marketing. In 2005, 2006 and 2007, MoreVisibility was named to the Inc. 500/Inc. 5000 list as one of the nation's fastest growing privately owned firms. MoreVisibility is a Google Certified Company, a Yahoo Ambassador and a member of the MSN Search Council. MoreVisibility boasts high client retention through a team of 40 senior professionals who deliver superior performance and measurable results. Notable clients served include The Metropolitan Museum of Art, Sony, The Mayo Clinic, National CineMedia, Travel Nevada and Clemson University. The company is based in Boca Raton, Fla. and can be found on the web at http://www.MoreVisibility.com.
About ShareASale Affiliate Network
ShareASale Affiliate Network is a leading Affiliate network based in Chicago, Illinois. Online sign up for the 1STOPLighting.com affiliate program is available.
###