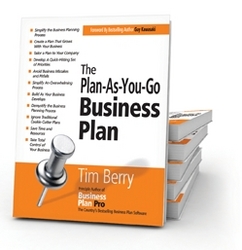 The Plan-As-You-Go Business Plan is a great new addition to Business Plan Pro for 2009
Eugene, OR (PRWEB) December 21, 2008
As part of an ongoing commitment to helping entrepreneurs succeed, Palo Alto Software today announces the inclusion of an electronic copy of the bestselling book The Plan-As-You-Go Business Plan in its 2009 release of Business Plan Pro.
"The Plan-As-You-Go Business Plan is a great new addition to Business Plan Pro for 2009," said Sabrina Parsons, CEO of Palo Alto Software. "The book teaches people how to apply a new planning methodology to their business, which will ultimately help owners better understand and manage their operations, especially during these uncertain economic times."
Business plans are not just for start-up businesses, and The Plan-As-You-Go Business Plan, by business-planning expert and Palo Alto Software founder Tim Berry, addresses how all businesses can benefit from the planning process. Whether you've been in business for a few months or for 20 years, the process of creating and revising your business plan is critical to the health and growth of your company.
The book focuses on the experience of planning -- planning for the sake of your business rather than for the sake of the plan document -- and encourages entrepreneurs to create more practical, modern business plans that will help their businesses ride out the current economic storm and come out strong.
Anita Campbell, editor of Small Business Trends, says The Plan-As-You-Go Business Plan provides, "practical advice that will inspire you to get going and make your business a success."
Guy Kawasaki, author of Reality Check and The Art of the Start, enthuses, "It's ideas like this that make me say that everybody running a business should develop a plan, but only in the simple, pragmatic context that this book evangelizes."
With difficult financial times ahead, it's never been more important to have a sound business plan. And there's never been a better time to adopt planning as a business lifestyle. Business Plan Pro has been the leading business plan writing software for years, and with the addition of The Plan-As-You-Go Business Plan, the software is updated for the challenges that you may face in this current economic climate.
About Palo Alto Software
Palo Alto Software, Inc. develops, publishes and markets planning software products for use with personal computers. BUSINESS PLAN PRO is the best selling business planning software in the U.S. retail market, according to NPD Intelect. Palo Alto Software's marketing planning product is MARKETING PLAN PRO powered by Duct Tape Marketing. This product line offers "know-how" solutions that have made Palo Alto Software the market leader in its category. With its most recent product, EMAIL CENTER PRO, Palo Alto Software has created a Web 2.0 "software as a service (Saas)" email management tool.
Palo Alto Software's award-winning site, http://www.bplans.com, continues to be one of the highest trafficked sites in the small-business arena, offering numerous business-planning resources.
Palo Alto Software was founded in 1988 and is a privately-owned corporation based in Eugene, Oregon. More information about Palo Alto Software products is available on the company website, http://www.paloalto.com.
To access high-resolution images or further information, go to http://news.paloalto.com/
Additional Resources:
businessingeneral.com | deadsimplesoftware.com
# # #