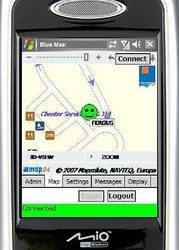 (PRWEB) December 23, 2008
New software that enables a Windows GPS PDA to display the accurate, real-time location of other participating PDAs has been launched today in a low price bundle for two PDAs, creating an affordable, downloadable personal GPS tracking system for just £49.
The location tracking is GPS-accurate, works worldwide to within a few metres, and is updated continuously. The tracked units are displayed on a map for easy navigation.
The bundle contains:

1 X GPS software and login for KoolTrax™ Handset for mapping & tracking
1 X GPS software and login for KoolTrax™ Mobile for tracking only
1 X software and login for KoolTrax™ PC for mapping and administration
Users can add as many KoolTrax™ phone software downloads as they wish to locate friends, family, children, vehicles and colleagues who will appreciate not having to carry an additional tracking device (although a dedicated GPS tracker is available where providing a PDA is not appropriate, for instance, monitoring someone with Alzheimer's or other dementia, or tracking a small child for security).
In a typical setup, one phone will run [KoolTrax™ Mobile GPS locator software]http://www.bluetreeservices.co.uk/koolTraxManager.php so that it can be located, while another will run KoolTrax™ Handset which shows a map on the screen on which is displayed its own location and the position of the other phone. The location of both units are also viewable on an Internet connected Windows PC that is running KoolTrax™ PC.
Blue Tree Systems' KoolTrax™ PC (included) allows users to administer the phones remotely, for example to set inside/outside geofences, see the breadcrumb history, set the position tracking interval, and set up contacts for alerts (by email or SMS).
Mike Smuts, Managing Director of Blue Tree Services, commented "We have for some time provided GPS tracking devices for people who do not, or will not carry mobile phones. KoolTrax™ is a natural extension of this service. Anyone with a compatible phone can have real time tracking as an option, ready for every day use or trekking, climbing, sailing, or if they simply want to let their family know when they will be home. With this bundle they can give one of the software logins (say for KoolTrax™ Mobile) to their friend and see where they are when they are close. New versions for Blackberry and i-phone are planned for the end of January."
Key features include:
No limit to the number of KoolTrax™ trackers you can watch on your PC
An alert button - for emergencies
Boundary alerts
Breadcrumb trail history
The GPS PDA tracker bundle can be downloaded from http://www.bluetreeservices.co.uk/koolTraxHMOffer.php. This offer is for a limited time only.
System Requirements & Details

Handset & Mobile - Windows Mobile 5 & upwards, running on a PDA, min 200mhz (400mhz recommended), min 50 Megabytes of Memory. GPS on board, GPRS enabled.
PC - Windows XP or Vista, connected to the Internet via broadband.
All queries and support are handled through support@bluetreeservices.co.uk
Maps included are for Europe only
There is an annual renewal charge of £68.51 for the bundle to cover map licences and server costs
SMS alerts are free for the first month and then must be purchased from the BlueTree Site
###