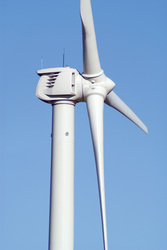 Wind power is important to our customers and to the economic development of South Dakota
Carpinteria, California (PRWEB) December 24, 2008
Clipper Windpower, Inc. ("Clipper") today announced an agreement between Rolling Thunder I Power Partners, a joint development partnership between Clipper and BP Wind Energy, wherein NorthWestern Energy (NYSE:NWE) will purchase 25 megawatts (MW) of wind power from a wind project currently under development in Hand County, South Dakota, for delivery to electric customers in the State.
"BP is pleased to be developing another project with Clipper Windpower as part of the strategic alliance the two companies signed in July 2006," says Robert Lukefahr, President, BP Wind Energy.
Once built, the 25 MW wind project, which will be the first to supply renewable power to NorthWestern Energy in South Dakota, will consist of ten Liberty 2.5 MW wind turbines manufactured by Clipper. Built at Clipper's Cedar Rapids factory, and recognized by the U.S. Department of Energy for attaining unparalleled levels of efficiency, reliability, and reduced cost of energy, the Liberty wind turbine is the largest capacity wind turbine built in the U.S.
"With the ranking of fourth highest wind resource in the nation, it's befitting that South Dakotans will be tapping into their abundant natural resource as a source for power" said John Lamb, President and CEO of Clipper Windpower Development Corporation. "Particularly considering today's economic situation and the growing demand for clean power, we applaud NorthWestern Energy's leadership in increasing wind energy's role in the State.
"Wind power is important to our customers and to the economic development of South Dakota," said Bob Rowe, NorthWestern Energy's president and CEO. "We're excited to begin the process of diversifying our fuel supply mix in South Dakota to include the benefits of clean, renewable energy."
"Power purchase agreements like this one announced by NorthWestern Energy are a necessary component for wind energy development in South Dakota," said South Dakota Public Utilities Commission Chairman Dusty Johnson. "The news that NorthWestern Energy's South Dakota customers may soon be served by renewable energy is great."
The Project is anticipated to begin construction in the first half of 2009 and, once built, will deliver enough clean electricity to power some 7,500 average American homes, offsetting the need to produce the same amount of power from traditional means which would expel an additional 90 million pounds of carbon dioxide into the earth's atmosphere on an annual basis. The project will interconnect directly into NorthWestern Energy's 69 kW transmission system. Commercial operation is anticipated by early 2010.
About NorthWestern Energy
NorthWestern Energy is one of the largest providers of electricity and natural gas in the Upper Midwest and Northwest, serving approximately 650,000 customers in Montana, South Dakota and Nebraska. For more information about NorthWestern Energy, visit our Web site at http://www.northwesternenergy.com.
About Clipper Windpower
Clipper Windpower is a rapidly growing company engaged in wind energy technology, turbine manufacturing, and wind project development. With offices in the United Kingdom, United States of America (California, Colorado, Iowa, and Maryland), Denmark, and Mexico and a ISO9001:2000 QMS Certified, 330,000 square foot manufacturing and assembly facility located in Cedar Rapids, Iowa, the company designs advanced wind turbines, manufactures its 2.5-MW Liberty wind turbine and actively develops wind power generating projects in the Americas and Europe. Clipper is a public company listed on the London Stock Exchange's Alternative Investment Market (AIM). Clipper's ticker symbol is CWP.
The ordinary shares of Clipper Windpower Plc are traded on the Alternative Investment Market of the London Stock Exchange and are not registered under the U.S. Securities Act of 1933, as amended. Such shares may not be offered or sold to residents of the United States or to persons acting on their behalf, or to other persons who are "United States Persons" within the meaning of Regulation S as promulgated under the Securities Act of 1933, unless such shares have been registered under the Securities Act or there is an available exemption from registration.
For more information contact:
Mary McCann-Gates
Director, Global Communications
Clipper Windpower Inc.
6305 Carpinteria Avenue, Suite 300
Carpinteria, CA 93013
(main) 805.690.3275
(direct) 805.576.1323
(fax) 805.899.1115
(mobile) 661.301.0400
mmccann (at) clipperwind.com
###