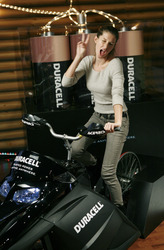 So when we watch this year's New Year's Eve celebration in Times Square, the light we helped create is dedicated to the light that the Agua Limpa Project has brought to so many.
New York, NY (PRWEB) December 24, 2008
Supermodel Gisele Bündchen appeared at the Duracell Power Lodge in Times Square with members of her family to help in the final push to power the numbers 2-0-0-9, which will light up as the New Year's Ball drops. By pedaling on specially designed snowmobikes, the Bündchen family helped Duracell close in on its goal of collecting 230 pedaling hours, which will generate enough energy to illuminate the "2009" sign once the ball drops on New Year's Eve in Times Square.
"I am so excited to have my family in town for Christmas and we're going to do things you can only do in New York City--including being part of this great project Duracell has in Times Square," said Bündchen. "We are going to pedal on the snowmobikes in support of the Agua Limpa Project which was started by my father and provides clean drinking water to people in regions of Brazil," Bündchen adds. "So when we watch this year's New Year's Eve celebration in Times Square, the light we helped create is dedicated to the light that the Agua Limpa Project has brought to so many."
The Bündchen family joins a host of other celebrities who have pedaled snowmobikes to help light the "2009" sign, including entertainment legend Liza Minnelli, news anchor Katie Couric, musicians Nick Lachey, Leona Lewis, Brandy, Sean Paul, Lady GaGa, Ne-Yo and Natasha Bedingfield, actors Peter Facinelli and Michael Urie, the cast of the New Electric Company, and "Project Runway" winner Christian Siriano.
All guests to the Duracell Power Lodge at the Charmin Restrooms in Times Square can hop on a snowmobike to generate power, which Duracell will capture and use to illuminate the "2009" sign. The snowmobikes use rotary technology to capture energy through the spinning wheel when the bike is pedaled. Power is then routed into the Duracell Battery Center, where it will be stored until New Year's Eve and trusted to light the night's most important moment. Duracell is nearing its goal of 230 pedaling hours, but more people are needed to ensure there is enough power to illuminate the sign throughout the entire Ball Drop ceremony.
"As New Year's Eve approaches, excitement and support continues to grow as celebrities and thousands of Times Square visitors give us their personal power to help Duracell light 2009," said Rick June, vice president and general manager, Duracell North America. "We are well on our way to powering the new year!"
Duracell Power Lodge visitors also can recharge from the frantic holiday pace with a variety of entertainment activities. The Duracell Recharge Rest Stop lets visitors plug-in and charge their personal entertainment and digital devices - including digital cameras, cell phones, BlackBerrys, iPods, MP3 players and gaming devices - at Duracell power stations. Families can enjoy multiple Wii stations and check out some of the hottest toys of the season, including Mattel's D-Rex Interactive Dinosaur, courtesy of Duracell and partners Nintendo and Mattel.
The Duracell Power Lodge is being held in conjunction with the annual Charmin Restrooms in Times Square. For the third consecutive year, the Charmin Restrooms have returned to Times Square and the Duracell addition creates two floors of fun: the first for "relief" where tourists and New Yorkers alike can enjoy the ultimate bathroom experience and the second where visitors can "recharge" their devices and their holiday spirit.
"Times Square visitors are learning that Duracell is here to serve their personal power needs to keep their devices juiced up - even when a power outlet is nowhere to be found," said Craig Bida, Duracell brand manager. "People depend on their mobile devices today like never before, and Duracell is making it easier to keep things powered up anytime and anywhere."
The Duracell Power Lodge and Charmin Restrooms are open now through December 31st from 10 a.m. to 9 p.m. Sunday through Wednesday, and 10 a.m. to 11 p.m. on Thursday through Saturday. They are located at 1540 Broadway in Times Square between West 45th and West 46th Streets. The Power Lodge and Restrooms will close at 6 p.m. on Christmas Eve and 3 p.m. on New Year's Eve, and will be closed on Christmas Day. In addition, this year, the Charmin Restrooms will also be open on New Year's Eve from 12 a.m. to 2 a.m., offering the crowd of millions in Times Square a safe and accessible bathroom haven after the 2009 Ball drops.
About Duracell
Part of the Procter & Gamble Company [NYSE:PG], Duracell has been powering people around the world for more than 40 years. Our products serve as the heart of devices that keep people connected, protect their families, entertain them and simplify their increasingly mobile lifestyles. As the world's leading manufacturer of high-performance alkaline batteries, Duracell also innovates in disposable, renewable and peripheral technologies and markets general purpose flashlights along with the advanced Daylite® LED flashlights. Visit http://www.duracell.com for more information.
About Procter & Gamble [NYSE:PG]
Three billion times a day, P&G brands touch the lives of people around the world. The company has one of the strongest portfolios of trusted, quality, leadership brands, including Pampers®, Tide®, Ariel®, Always®, Whisper®, Pantene®, Mach3®, Bounty®, Dawn®, Gain®, Pringles®, Folgers®, Charmin®, Downy®, Lenor®, Iams®, Crest®, Oral-B®, Actonel®, Duracell®, Olay®, Head & Shoulders®, Wella®, Gillette®, and Braun®. The P&G community consists of 138,000 employees working in over 80 countries worldwide. Please visit http://www.pg.com for the latest news and in-depth information about P&G and its brands.
###