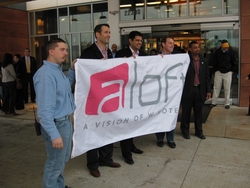 We invite everyone in the community to come enjoy the great vibe of aloft's 'sassy, savy, space.' More than a hotel, it's a great place to hang out. Most of all, the talent (our way of referring to the staff) here at the aloft will impress you with their genuine hospitality.
Dulles, Loudoun County, Virginia (PRWEB) December 24, 2008
The developer of Loudoun County's new stylish hotel aloft announced its opening via a dedication ceremony on Friday, December 19th. Owned by The Buccini/Pollin Group [Buccini/Pollin] and managed by PM Hospitality Strategies, Inc. [PMHS], aloft Dulles North is a bold new lodging alternative in the Dulles Technology Corridor offering 136 spacious, "loft-like" rooms, and a hip, urban attitude.
As guests arrived to the hotel's opening, the first thing they noticed was its distinctive exterior that infuses bands of neon light into the building's facade and contains bold architectural elements, such as the colorful portico, polished wood, frosted glass, concrete globes of varying dimensions and a curved roofline. Beyond the hotel's visual appeal, guests of the opening were greeted by the vibrant sounds of diva DJ Neekola. To all attending, it became immediately clear that this unveiling ceremony would be worlds apart from any typical ribbon-cutting.
Drawing upon its unique nature, the hotel officially sealed and buried a time capsule aptly named "DNA" (a double entendre symbolizing its individual character and referring to the hotel's name - "Dulles North aloft"). The DNA Time Capsule will be unsealed on the hotel's ten year anniversary.
The collection of items for the DNA Time Capsule officially started at the aloft's ground breaking on October 9, 2007. All members of the construction and preopening teams were invited to send a message to the future by answering the following question: "How do you think life in Loudoun County will have changed in the intervening ten years from opening?" The team speculated on the County's future population, availability of mass transit, major employment sectors, cost of basic groceries, progression away from fossil fuels, among other issues. Beyond these predictions, the DNA Time Capsule is filled with items that indicate the hotel's array of unique features such as its aloft-inspired music and gadgets. A sample of other items included a 10-year anniversary card, popular YouTube video clips, Beijing Summer Olympic pins, Barack Obama Presidential election pins, today's Washington Post and a recap of significant 2008 events.
The DNA Time Capsule was buried at the front of the hotel covered by a marble engraved plaque. The official aloft flag joined the US and Virginia flags via a brief flag-raising followed by the ceremonial ribbon cutting. The crowd moved indoors to enjoy signature refreshments, hotel tours and photographs.
"A Vision of W Hotels," aloft is a new destination sensation featuring loft-inspired design, accessible technology, and a stylish urban attitude.
"With its urban design aesthetic, aloft brings new energy to the Dulles Corridor by offering the opportunity to mix and mingle in a space that is stylish, fun and affordable," said Scott Ingram, Director of New Builds for Starwood Hotels. "My compliments to PMHS and their opening team for making this one of our best hotel launches."
Greg Miller - President and CEO of PMHS - noted that Loudoun County has long been a favorite escape for Washington, DC residents. "We invite everyone in the community to come enjoy the great vibe of aloft's 'sassy, savy, space.' More than a hotel, it's a great place to hang out. Most of all, the talent (our way of referring to the staff) here at the aloft will impress you with their genuine hospitality."
Among those attending were Mr. Tony Howard - President of the Loudoun Chamber of Commerce; Ms. Eileen Curtis - President of the Dulles Regional Chamber of Commerce; and Ms. Cheryl Kilday - President & CEO of the Loudoun Convention and Visitors Association.
At the conclusion of the ceremony, Cheryl Kilday commented, "The addition of the aloft hotel to our area is another great attraction for Loudoun County. By the time that DNA time-capsule is unsealed; Loudoun is sure to realize its vision as a premier destination for visitors and regional residents to enjoy, much like the Hamptons for New York, Nantucket for Boston and Palm Springs for LA."
In prepared remarks, Ms. Eileen Curtis referred to the new aloft as "eye-candy" indicating it certainly adds to the color of the region.
Mr. Tony Howard commented about economic stimulus that the hotel brings to Loudoun. Dave Pollin of Buccini/Pollin and developer of the hotel agreed. "Our development during this difficult year has meant construction jobs and economic stimulus for Loudoun County. Today, we are delighted to have the leadership of the Dulles region and Loudoun County business and tourism organizations join us in opening this hip, eco-chic new lodging alternative."
In his formal remarks, Greg Miller stated, "We are thrilled to introduce aloft to Dulles and Loudoun County. Our opening today compliments the area, and we are hopeful that this new lodging alternative provides further economic stimulus. A lot of smart people are skeptical about doing anything in this economy. Well count us among the fortunate that we do not let our intelligence get in the way of our imagination. As Albert Einstein once quipped, 'Imagination is much more valuable than knowledge.' With its stylish accommodations and lively social scene, aloft appeals to travelers with a vivid imagination."
The aloft Dulles North is located at 22390 Flagstaff Plaza, Ashburn, Virginia, 20148. For more information on aloft, please visit http://www.aloftdulles.com.
About Starwood Hotels & Resorts Worldwide, Inc.
Starwood Hotels & Resorts Worldwide, Inc. is one of the leading hotel and leisure companies in the world with approximately 900 properties in more than 100 countries. Starwood Hotels offers the following internationally renowned brands: St. Regis®, The Luxury Collection®, W®, Westin®, Le Méridien®, Sheraton®, Four Points® by Sheraton, and the recently launched aloftSM, and ElementSM. For more information, please visit http://www.starwoodhotels.com.
About aloft.
Infused with the DNA of W Hotels, aloft is a new destination sensation featuring loft-inspired design, accessible technology and a stylish urban attitude. Designed in conjunction with world-renowned David Rockwell and the Rockwell Group, aloft offers atmospheric public spaces where guests can mix and mingle. Energizing public spaces draw guests from their rooms. aloft is the place to socialize -- just step into the re:mixsm to relax and chat, work on your laptop or shoot a few games of pool. Catch up with friends, or catch the big game on the four-panel LCD TV screening wall. Above the screening wall is an LED electronic message-ticker providing the latest headlines in the news.
The adjacent W xyz bar has great drink specials and tasty bar fare while listening to high-fidelity Bose® surround-circuitry speakers. The re:fuelsm shop offers 24-hour grab-and-go savory and healthy foods like sandwiches, salads and fresh fruit along with sweet bites. aloft Dulles North also offers meeting space via its tactic boardroom and an adjacent conference center operated by PMHS.
The splash indoor pool and re:chargesm fitness center complete the guest's overnight experience. Guests may "pop in" at any hour thanks to 24-hour keycard access. re:charge provides a full cardio collection: stationary bikes, treadmills, stair-climbers, and elliptical machines from Life Fitness®. A stretching zone gives yogis space to limber up. Or they can fire up their muscles with strength machines and free weights. When guests are ready to cool down, they can slip into the splash pool next door for a quick dip.
Convenience Meets Modern Design: The hotel's spacious guest rooms with nine-foot ceilings make you feel right at home with extra large windows, iPod docking stations and free high-speed wireless internet. Each room is a combination high-tech office and entertainment center equipped with a one-stop connectivity solution for multiple electronic gadgetry all linked to a 42" flat-panel, HD television. Ultra-comfortable beds are either king- or queen-sized "platform" beds (no small standard beds in this hotel). The bathroom experience is true to its "loft" billing with sensibly-planned dressing wardrobe, a refrigerator under the vanity, counter-top bowl sink, oversized walk-in showers and amenities created by Bliss® Spa. Like the rest of the hotel, the guest rooms feature ultra-modern touches and a fashion -forward design.
Unlike typical hotels, aloft Dulles North provides wireless High Speed Internet Access throughout the entire hotel from entry to pool/fitness to guest room. Guests have the freedom to surf late into the night…unlimited service is complimentary for every guest! And self check-in kiosks allow guests to print out their next flight's boarding pass!
aloft is also committed to the environment and launched a see green program, which promotes ecologically friendly practices, products and services. For example, natural materials like cork and sustainable wood veneers are integrated into the hotel's design. In guest rooms, in-shower product dispensers produce less landfill waste. All interior spaces in the aloft are smoke-free. On the outside, the hotel features a walk-out courtyard and preferred parking for hybrid cars.
aloft opened its first hotel in 2008 and expects to open 500 properties worldwide in the next five years. For more information on aloft, please visit http://www.alofthotels.com.
About The Buccini/Pollin Group (Buccini/Pollin)
Buccini/Pollin is a privately held, full-service real estate acquisition, development and management company with offices in Wilmington, DE, Washington DC, suburban Philadelphia, Baltimore, and New York City. Buccini/Pollin has developed and acquired office, hotel, multifamily, townhouse, industrial, retail, and parking properties in the Mid-Atlantic and Northeastern regions of the United States. Buccini/Pollin has acquired or developed over $3 billion in assets, including six million SF of office, industrial, and retail space in 64 buildings, 3,200 hotel rooms in 17 hotels, six major residential communities, and 1,200 covered parking spaces. Buccini/Pollin is the largest privately held office landlord in the Philadelphia region.
About PM Hospitality Strategies, Inc. (PMHS)
PMHS is the hotel management affiliate of the Buccini/Pollin Group. Based in Washington, DC, the company manages all of BPG's hotel assets, providing development, technical consulting, on-site management, and accounting expertise. Concentrated in the Mid-Atlantic, PMHS manages full-service and select-service hotels in the Hilton, Starwood, Marriott, and Choice families of brands. Since the opening of its first hotel in 1996, PMHS has participated in the development and acquisition/renovation of dozens of hotels with a market capitalization of $1 billion. PMHS is a Starwood Preferred Management Company for Westin, Sheraton, Four Points by Sheraton, aloft, and element brands.
###