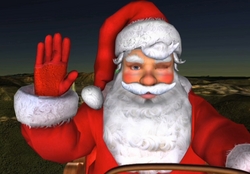 The tradition of NORAD Tracking Santa began with an errant telephone call from a child, and that is why we continue the tradition
Peterson Air Force Base, CO (Vocus) December 24, 2008
Members, family and friends of North American Aerospace Defense Command are preparing to track Santa again tomorrow, Dec. 24 and are working to accommodate the jolly fellow's change in flight schedule.
Media wishing to cover this event should contact the media call-in line at the NTS Media Center at (719) 330-5169 or, beginning at 4 a.m. MST on the Dec. 24, (719) 556-1910 or (719) 556-5128. Be advised these lines can get extremely busy.
Also new this year, people can get updates on Santa's travels using Twitter. Follow @noradsanta once logged in to http://www.twitter.com to not only track Santa but to participate in Twitter holiday conversations.
In preparation for the launch, the NORAD Tracks Santa Operations Center is being readied to kick into high gear for tracking Santa Dec. 24. Over 1,000 Santa tracker volunteers have signed on to cycle through the center answering telephone calls and e-mails from children around the world wanting to get a fix on Santa Claus' whereabouts.
A toll free number is available at 1-877-Hi-NORAD (1-877-446-6723) for children to call and personally speak to a Santa tracker on Christmas Eve. In addition, children can send an email to noradtrackssanta (at) gmail.com.
In 2007, 1,012 volunteers at the NTS Operations Center answered 94,743 telephone calls and 10,326 emails from children around the world.
The NORAD Tracks Santa Web site, http://www.noradsanta.org, went live Dec. 1 and has already recorded more than a 1.738 million visitors from more than 209 countries and territories. Last year, the site received almost 11 million visitors from 212 countries and territories around the world.
On Dec 24, when Santa takes off from the North Pole, children can track him with up-to-the-minute reports in Google Maps and Google Earth and can view video captured by NORAD's Santa cams from several key stops. All of this information is available on the Web site in English, French, German, Italian, Japanese, Spanish and new this year, Chinese.
"The tradition of NORAD Tracking Santa began with an errant telephone call from a child, and that is why we continue the tradition", said Maj. Reddish. "Although the Web site has a huge audience, many children still like to call the Operations Center to talk to a real person. In fact, last year, the Santa trackers answered about 40 calls per hour from children around the world".
The NTS Operations Center, like the Web site, is corporately sponsored. Verizon donates the toll free number, Qwest, Avaya and PCI provide communications engineering, 5 Star Bank, Pepsi Distributing, and First Choice Awards and Gifts keep the trackers happy with food, beverages and souvenir tracking pins.
Radio Broadcasters may receive audio files updates for Santa Cam videos files (English only) by going to http://www.norad.mil/audio. Please adhere to the Media Advisory Notification.
Media outlets may request a copy of the high-resolution 2007 Historical Flight of NORAD tracking Santa (currently displayed on the home page of web site) or B-Roll of an interview with Google Earth engineer Brian McClendon about NORAD Tracks Santa by going to http://www.thenewsmarket.com/google and entering their User ID and Password information. If outlets do not have a NewsMarket account, they may visit http://www.thenewsmarket.com and register for free to gain access to this footage.
In addition, broadcasters may embed the tracking map on their Web site or broadcast by going to http://www.noradsanta.org, "Contact Us", then "Media Center", where they will find the instructions and the link to do this.
###