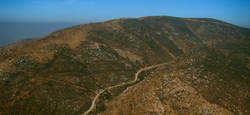 Working in this type rocky terrain is something that we excel in
Santa Ana, CA (PRWEB) December 26, 2008
Sukut Construction, Inc. broke ground in September on a section of the U.S. Department of Homeland Security's fence that borders the U.S. and Mexico in the rugged foothills of Otay Mesa. The project will cost $11.2 million.
Sukut has been subcontracted by Granite Construction to develop the site and road construction. The project calls for construction of 5.2 miles of border fence and an adjacent access road.
The section of border fence will be constructed above the Tijuana River foothills at the Otay Mesa illegal border crossing. The site is south of the city of Dulzura and eight miles from Highway 94, the nearest major road. The steep, rocky terrain and the remoteness of the location make this a popular illegal border crossing, and contribute to the complexity of the job.
Sukut will widen the 2.5 miles of existing dirt road used by the U.S. Border Patrol to make the route safe for heavy equipment, constructing a 32-foot-wide and 5.2-mile border fence access road. The location's steep grade will require switchback roadway with a maximum grade of 15 percent at the most extreme points. "Working in this type rocky terrain is something that we excel in," said Michael Ortiz, President, Sukut Equipment, Inc.
Sukut will use extensive blasting and drilling to clear 530,000 cubic yards of rock in the foothills and employ geo-grid slope stabilization to prevent rock slides across the Mexican border just three feet away.
Sukut Construction, Inc. is California's largest mass excavation and grading contractor, moving 150 million cubic yards of earth per year. It was founded almost 40 years ago and is headquartered in Santa Ana, California, with offices in Los Angeles, Riverside and Oceanside, California, the company is nationally recognized for its work on residential, commercial, industrial and retail development mass grading; public works; flood and storm water pipe and structures; highway, roads and infrastructure construction; golf courses and resorts; landfill construction and environmental cleanups; and emergency landslide repair and stabilization.
Information is available on the company's website at http://www.sukut.com or by calling Sukut headquarters at (888)-SUKUT01 or (888) 785-8801.
###