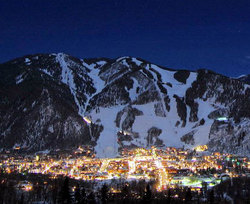 Powder Days and Stellar Nights
Aspen, Colorado (PRWEB) December 26, 2008
As the holidays draw near Aspen, Colorado gears up for a continuation of the festive season with the annual Aspen Winterskol Celebration, January 8 - 11, 2009. This year's slogan, "Powder Days and Stellar Nights" encapsulates just what Winterskol is all about, featuring a series of family-friendly day events such as the "Wintersculpt" and "Kidsculpt" snow carving competitions, a family snowman building contest, the Soupskol Annual Cookoff and the Winterskol Rail Jam, paired with an exciting nighttime lineup. After-hours events gear-up with a comedy night at the Wheeler Opera House, après ski parties with live music from George Clinton & Parliament Funkadelic and the "Inside Out" Artist Celebration, featuring photography, painting, prints and live music. Other signature Winterskol events include poetry readings at the Aspen Art Museum, lectures on space exploration at the Aspen Institute, varied discounts on wares and goods at local businesses and the Apple Strudel Downhill race. For a full schedule of events, visit the ResortQuest Aspen events pages at the ResortQuest Aspen website.
ResortQuest Aspen is offering a full selection of lodging deals and discounts in Aspen and Snowmass throughout the Winterskol event timeframe, giving travelers the perfect reason to extend their holiday season with a ski trip to these famous slopes. Enjoy the best deals in Aspen and choose from condominiums and vacation rental homes at the base of the mountain and throughout downtown Aspen and Snowmass. ResortQuest also manages the Inn at Aspen, a full service conference and meeting resort, offering over 5,000 square feet of on-site meeting space, the Elkhorn Restaurant and bar, outdoor heated pool and hot tubs and 122 hotel rooms at the base of Buttermilk Mountain.
About ResortQuest:
ResortQuest, one of the nation's leading vacation rentals and hospitality and resort real estate companies, provides a one-stop resource for vacation bookings in North America's premier resort destinations. ResortQuest is the largest marketer and management company of vacation condominiums and home rentals in the United States, based on a portfolio of over 10,000 vacation rental properties. With the inclusion of Partner Affiliates in North and South America, the Carribean and Europe, ResortQuest now offers over 50,000 vacation rentals choices in over 100 destinations world-wide. With over a billion dollars in sales, ResortQuest Real Estate is one of the nation's leading real estate companies focusing exclusively on resort properties, offering superior brokerage services in the country's premier beach, ski and golf destinations.
###