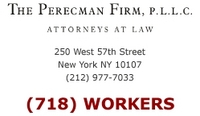 can also be held liable if they have a contract with the building and they are not doing their job and an accident occurs.
New York, NY (PRWEB) December 26, 2008
The number, and frequency of elevator accidents and breakdowns in building complexes in New York City has only recently begun to make headlines in a city rife with mishaps that put any one of its eight-plus million residents at risk of becoming the next tragic front page story.
According to David Perecman, a New York personnel injury attorney who has handled many premises liability and elevator accident cases in his three decades of practice, there are many instances in the city every day where the only way for people to fight back and protect themselves against blatant landlord negligence is in the courts.
Attorney Perecman, who is representing the family of Lillian Milan, a 49-year-old woman who died from an asthma attack recently when she was forced to walk up 8 flights of stairs to get to her apartment because both of the elevators in her Bushwick Houses apartment complex were out of order, said that if the city, or a building owner, fails to maintain an elevator and it breaks, it could become a personal injury matter if the tenant is seriously injured, or dies, as a consequence of the breakdown.
Ms. Milan's daughters, Crystal and Jasmin, and her common law husband, Francisco, claim that when the EMS finally arrived at the scene, 55 minutes after they had been called, they didn't want to walk up all those flights of stairs either. They finally did, but it was too late, they said.
"The issue for the courts," Perecman said, "is whether there is a legal connection between the broken elevators and the tenant's injury. It comes down to proving that the injury to Ms. Milan was a direct result of a building defect and not some other factor such as a pre-existing medical condition, which the building lawyers will likely claim."
Ms. Milan is one of thousands of sick and/or elderly tenants in the city who are among those who suffer most when apartment building elevators don't work.
"When elevators are out-of-order," Perecman said, "frail elderly and disabled tenants often become shut-ins, unable to leave their apartments for days at a time. What makes matters worse for some of these most vulnerable tenants is New York City's building code, which regulates nearly every aspect of construction and maintenance from window and exterior wall specifications, boiler and elevator maintenance, even paint. The code that requires proper elevator maintenance for the elderly, or infirm, is essentially the same as it is for any other able-bodied tenant of the building."
Perecman said that despite the shortcomings of the city's building codes, there are laws in New York State that require building management to act in a 'reasonably prudent' manner.
"The people responsible for the care and upkeep of a building," Perecman said, "should be required to know if there are elderly, or disabled people, living in the building and take into account what the courts consider to be reasonable preventive measures to protect the safety of sick and elderly tenants.
In the case of the Wagner Houses in East Harlem, where elevator breakdowns at the complex have increased by 30 percent in the last three months, some tenants have taken matters into their own hands by trying to force open jammed doors, or by taking other risks to their safety in efforts to cope with the chronic, day-to-day hassles of defective elevator service.
Perecman warns that user negligence, like using a crowbar to open a jammed door, is a serious matter and should be avoided. He said that in the case of an elevator accident, the Court could hold the user either all, or in part, responsible for his or her own injury if the user is found to have tampered with the safe operation of the elevator.
"There is a whole set of liability rules involving elevator accidents," New York attorney Perecman explained. "There is a doctrine the courts use called, 'Res ipsa loquitor,' the act speaks for itself, which often comes into play in elevator accident cases. Since building management is responsible for maintaining the elevator in proper working order, when an elevator malfunctions, for example doors close too fast, or stop before or after they should resulting in misleveled floors, or if the elevator cab is not there when the door opens at a given floor, there may be no need for the user to prove negligence if he or she is injured. In other words, the act speaks for itself.
"Elevator maintenance companies," he added, "can also be held liable if they have a contract with the building and they are not doing their job and an accident occurs."
Perecman explained that the doctrine of Res ipsa loquitor is not limited to elevator accidents. There are other situations involving apartment building negligence, such as a brick falling on someone's head, or in medical malpractice cases where a foreign object is left in a patient after surgery. The doctrine could even apply in accidents in department stores where a display item falls and injures a customer.
While there are no differences in the building codes in New York State that distinguish between the liability of private and municipal building owners, there are special rules about how municipalities like New York City can get sued if a negligence claim against the city can be proved in a court of law. Claims against municipalities generally require that a document called a "Notice of Claim" be filed within 90 days of the accrual of the claim, or the accident.
If New York tenants have complaints about defective elevators, elevator accidents, or other safety issues in their building, Attorney Perecman recommends that tenants contact The New York City Housing Authority. In Brooklyn call: 718-649-6400. In the Bronx call: 718-409-8626. In Manhattan call: 212-427-8542. In Queens and Staten Island call: 718-657-8300.
###