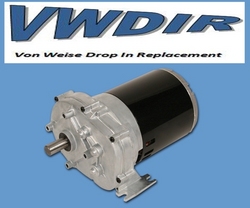 This is the eleventh new Von Weise Drop-In Replacement Gearmotor we have introduced in the past 120 days and, based on demand, there will likely be more
St. Charles, IL (PRWEB) December 30, 2008
A new parallel shaft AC gearmotor available in eight standard models is the latest addition to the expanding Von Weise Drop-In Replacement gearmotor line of Bison Gear & Engineering Corp. The new VWDIR20 AC gearmotors feature 1/4 horsepower (186 watts) 115V, 60 Hz split phase electric motors. The compact, integral gear reducers feature a phenolic high speed gear for low noise and steel gearing in subsequent stages, with ratios ranging from 14:1 to 286:1. Corresponding fixed output speeds are from 120 to 6 RPM, with continuous torque ratings from 100 to 600 in-lbs (11.3 to 67.8 N-m). The gearmotors feature built-in face and fount mounting, with overhung load (OHL) capability up to 300 lbs. (136.4 kg.).
"This is the eleventh new Von Weise Drop-In Replacement Gearmotor we have introduced in the past 120 days and, based on demand, there will likely be more," said Andy Petak, Bison Gear Regional Sales Manager. "We now have over 75 standard VWDIR models that can be referenced with CAD drawings at our web site and all of them are available from Bison's distribution partners."
The new VWDIR20 AC parallel shaft gearmotors are designed for high torque, single phase commercial and industrial applications such as electromechanical pool covers and bleachers, compactors, can crushers, conveyors, commercial garage door operators and a wide variety of poultry and other agricultural equipment.
U.L. and CSA recognition are standard and CE recognition can be provided for OEMs. Bison Gear's Innopreneurial(TM) application and design engineering capabilities to customize standard models to meet specific OEM needs are readily available. All of the VWDIR gearmotors are manufactured in Bison Gear's suburban Chicago facility to Bison's high quality standards in order to ensure a short supply chain and reliable, long-life operation.
The VWDIR20 AC gearmotors are the latest addition to Bison Gear's comprehensive line of Von Weise Drop-In Replacement gearmotors.
Bison's VWDIR line now includes right angle, parallel shaft and offset parallel shaft designs utilizing AC, DC and universal motors from 1/30 to 1/2 horsepower (25 to 373 watts), with fixed output speeds from 1.5 to 181 RPM and continuous torque ratings up to 800 in-lbs (90.4 N-m).
About Bison Gear & Engineering Corp.
Founded in 1960, Bison Gear & Engineering Corp. designs and manufactures fractional horsepower electric motors, gearmotors and gear reducers used in industrial and commercial OEM applications worldwide. Bison's strong engineering tradition, based on Robusticity (TM) principles, offers products with up to twice as much torque in the same package size as competitors. Bison employs over 270 associates in its St. Charles, Illinois facility which produces gearmotors and reducers in parallel shaft and right angle configurations, as well as AC and DC electric motors, for applications where dependability and long lifetimes are important.
###