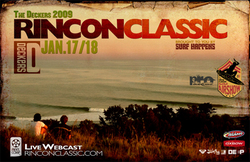 Rincon is a local surf spot with a global reputation and Deckers® is a homegrown surf brand dedicated to surfers worldwide. We felt that establishing a title role at the annual Rincon event was a perfect way to announce to the Central Coast and the world that Deckers® is back. Sponsoring this event felt like our destiny rather than a decision
Santa Barbara , CA (PRWEB) December 31, 2008
Deckers® - creator of one of the original multi layered flip flops - helped to introduce arch support and other ground breaking technologies to the sandal market in 1973. These innovations created an immediate sensation with surfers in California and Hawaii. Deckers® is Santa Barbara's original flip flop brand and after a 14-year hiatus, the Deckers® Brand(a division of Deckers Outdoor Corporation NASDAQ: DECK) returns to the surf lifestyle marketplace inspired and ready to once again redefine the future of footwear.
Deckers® is proud to announce that they have signed a title sponsorship agreement with Surf Happens for Santa Barbara County's oldest and most prestigious surfing competition, "The Rincon Classic". This event will take place at Rincon Point on Saturday and Sunday January 17 & 18, 2009. With over $50,000 in sponsor donated prizes and the priceless bragging rights that accompany the coveted divisional titles, The Deckers® 2009 Rincon Classic will be the biggest and best ever. This event annually showcases the Central Coast's top surfers and serves to galvanize the local surf community. "Rincon is a local surf spot with a global reputation and Deckers® is a homegrown surf brand dedicated to surfers worldwide. We felt that establishing a title role at the annual Rincon event was a perfect way to announce to the Central Coast and the world that Deckers® is back. Sponsoring this event felt like our destiny rather than a decision" said, Adam Druckman, Deckers Brand Manager.
The surfing competition is an all age's event consisting of fourteen divisions which range from the 11 & under Gremlins, to the 55+ Legends, and will run from 7:00am to 5:00pm on both Saturday and Sunday. In addition to the regular divisions, The Deckers® 2009 Rincon Classic features specialty division favorites such as the Red Bull Airshow, the Budlight Professional "Budlight Pro" Division ($4,500 purse), the Wahoo's Expression Session, and the Oxbow Longboard Divisions. This year the event will drop the first division cost by $10 from 2008 and will include insurance as part of that fee. First division entry is $60, second division is $40 (with larger discounts for groups of three or more), and the entry for the Budlight Pro division is $150. Athletes can register online at surfhappens.com.
***Please note you must be a resident of the (805) area code to register as a participant. Also note the date of this event is subject to change depending on surf conditions. Please monitor Rinconclassic.com for updates regarding event status.
New for 2009, The Deckers® Rincon Classic will partner with ReelComp.com to present its first LIVE webcast of the event. Thanks to the support of ReelComp.com, the event will be captured live so that web surfers can enjoy both days' events from the comfort of their homes. Features of the webcast include: live announcing and commentating, live scoring, special guests, on-beach interviews, online giveaways, instant replays, highlight video clips, and more.
Also for the first time ever, the Deckers® Rincon Classic in association with ReelComp.com will be holding an online video submission contest, the grand prize of which is $500 cash and free registration for the event. Three runners-up will receive gifts from sponsors. Submissions will be collected until January 5th, 2009 at ReelComp.com. After the contest, the Santa Barbara Maritime Museum will host the 2009 "Classic Sunday" Awards Ceremony and Live & Silent Auction Fundraiser. The event will be fully catered by Wahoo's Fish Taco's, and attendees will be able to find out the results of the contest as well as view actual highlights from the 2009 event. They will also have the opportunity to participate in the silent and live auctions to help raise money for charities such as: Heal The Ocean, Hugs For Cubs, The Santa Barbara Maritime Museum, and the Surf Happens Foundation. Also featured will be a photo slideshow courtesy of dubock.com and music from Santa Barbara's home grown reggae talent, Cornerstone. For the second year running the primary print media partner for The Rincon Classic is Central Coasts own Deep Magazine.
For a full list of sponsors, schedule of events, and more info visit RinconClassic.com, SurfHappens.com, Deckersbrand.com.
Deckers Outdoor Corporation strives to be a premier lifestyle marketer that builds niche brands into global market leaders by designing and marketing innovative, functional and fashion-oriented footwear developed for both high performance outdoor activities and everyday casual lifestyle use. Teva® , Simple® Shoes, UGG® Australia, TSUBO® , and Deckers® Brand are registered trademarks of Deckers Outdoor Corporation.
# # #