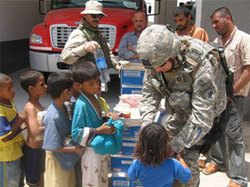 Someone had to do something.
New York, NY (PRWEB) December 25, 2008
The Tom Deierlein Foundation, a local Iraqi children's charity founded by a decorated Iraqi war veteran, Tom Deierlein, is receiving much needed help from the interactive marketing industry. These corporate volunteers became involved over the last few months and have created several interactive campaigns designed to benefit the TD Foundation. "I think it's great that my colleagues in the industry have stepped up like this. It's very exciting and will help the Foundation do some great things," says Tom Deierlein. The interactive campaigns will kick off on Monday December 10 and will continue until January 10. These campaigns will appear across many marketing channels and share messages intended to help drive traffic to the newly updated TD Foundation website and boost donations.
Some of the premiere interactive marketing organizations who volunteered to help spread the word are DoubleClick, Icon Media Direct, Collectivemedia.com, 24/7 Real Media, and Real Branding, among others. http:iMedia Connection has volunteered to coordinate these campaigns. Deierlein adds "We're really excited about this current campaign. The messaging will speak to different segments and ultimately help an Iraqi child get vitamins, shoes, toys and other things they need to grow strong."
The TD Foundation was conceived during Tom Deierlein's tour of duty in Iraq. As a civilian affairs officer, Tom saw firsthand the devastation decades of civil strife and war has caused in Iraq, especially to the most innocent of victims, the children. "People are suffering," explains Deierlein, "Someone had to do something." Tom became frustrated that the Army's efforts to ease the suffering of the Iraqi families were falling short due to bureaucratic processes and supplies. The Army supplied food and water but the Iraqi families needed so much more than they could provide. Therefore, when family and friends offered to send care packages to him, he began to ask them for vitamins and other supplies for the Iraqi children. Soon packages filled with vitamins, toys, clothes, shoes and other necessities began to arrive.
While in Iraq, Tom got into the habit of sending home monthly emails telling everyone about his Iraqi experiences and how much he and his unit enjoyed giving these additional supplies to the Iraqi families. "If you could alleviate that suffering, even for just a little bit, it really did make you feel good," adds Deierlein. His emails were forwarded to others and then forwarded again. As more boxes arrived, Tom and his unit added "delivery" to their job description and set up areas where they would distribute these much needed goods.
Throughout the rest of his tour, Tom and his unit continued to dispense these supplies to the Iraqi families. Until September 9, 2006, while on a routine patrol, his unit came under fire from a sniper who had been firing upon garbage collectors an hour earlier. Tom was severely injured and was sent home on September 11, 2006. While in the hospital recovering, Tom continued to work to get these needed provisions to the children. He officially founded Tom Deierlein Foundation not soon afterward.
Tom is now home and back to work as the Chief Operating Officer of Dynamic Logic, a leading market research company. He continues to work on his grassroots charity and the effort to alleviate the Iraqi children's suffering continues. The Foundation's second charity fundraiser broke previous records by raising $60,000 on November 20. TD Foundation has pledged $14,000 to the Children In Need Foundation and has also partnered with other children's charity organizations including The Gift of Life organization. And of course, the shipments to the children of Iraq continue.
About the Tom Deierlein Foundation
Mission Statement: The purpose of this organization is to help needy families and children both nationally and internationally with their most basic living needs including medical care. We will raise funds in the US and then use them to arrange for medical treatment and/or purchase critical daily items such as clothes, food, water, school supplies, vitamins, as well as toys, etc. We will partner with local organizations, institutions, and people to locate and distribute these goods and services to those in need. Our initial recipients will be Iraqi children affected by the current war. This is a grassroots organization. All participants in this fund are volunteers, 100% of donated funds will go to those children and families in need. For more information or to donate go to http://www.tdfoundation.org.
###