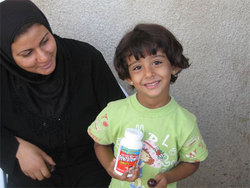 a grass-root organization where 100% of all donations go directly to the children in need
New York, NY (PRWEB) December 24, 2008
The TD Foundation, with the active leadership of founder Tom Deierlein, a veteran of the Iraqi war, is making a big difference in the lives of those children whose living conditions are of sub-poverty levels due to the war in the Iraqi region. Tom's story is unique in many aspects; he was called in to serve during the Iraqi war from his job as an executive in Manhattan. Upon arrival in Iraq, he was shocked by the circumstances in which war-struck Iraqi children were living. "Envision the most destitute, and poorest and dirtiest of slums that you have either ever seen or seen on TV or imagined" says Tom in a recent MSNBC Interview.
He used his emails home to report on this heartbreaking situation and ask friends to send vitamins, toys, and school supplies to help the most innocent victims of this war. Unexpectedly, the story took an almost tragic turn; Tom was shot by a sniper during his patrol and was shipped home for extensive medical treatment. However, the funnel of donations did not stop. Tom, even during his painful recovery, sent recorded video messages from his hospital bed calling for donors to help the war-deprived children of Iraq. The TD Foundation has deep-rooted personal meaning for Tom. He describes it as "a grass-root organization where 100% of all donations go directly to the children in need".
The charity grew out of a network of friends and colleagues collecting donations of vitamins, school supplies, and other products that directly help Iraqi children, who are far less fortunate than their western peers. Currently, the TD Foundation is trying to raise as many donations and products as possible, as they are needed on a daily basis in order to ensure a consistent flow of supplies for the Iraqi children.
Furthermore, the TD Foundation is widening its activities by helping severely wounded children receive medical help in the United States. For example, partnerships have been set up with several organizations, such as Children in Need International (CINI) which recently arranged for two children to be transported from Jordan to the US to undergo emergency heart surgery. The TD Foundation raised money to cover the costs of the surgeries. In fact, additional funds are needed in order for the TD Foundation to continue sponsoring such life-saving operations.
The TD Foundationis reaching out to those individuals who want to donate and make a difference in the lives of the most innocent victims of today's wars. In addition, the foundation is calling for school teachers and for parents to spread the word in their communities, and to teach their children to be socially responsible early on by giving to their less fortunate peers in the Middle East through donating products such as used clothes and school supplies.
The TD Foundation's website provides details about all the possible ways to donate. It also supports individuals who want to start their own fundraising activities for the cause. The TD Foundation is helping those innocent war victims who live amongst the saddest circumstances in a war raged region. By transferring 100% of the donations directly to the children, donors can be sure that every contribution helps to bring a smile on the children's faces.
###