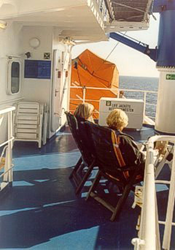 Westport, CT (PRWEB) February 13, 2008
Freighter Travel Club celebrates 50th anniversary.
In 1958, the Freighter Travel Club 's original purpose was to facilitate an exchange of information among its North American membership. Now, in these more modern, Internet days, the club has become international in scope and offers its members the capacity to easily book freighter voyages, frequently providing special discounts.
Two types of working ships have set aside cabins for passengers, serving a special niche for travelers who have the time and temperament to sail long itineraries - anywhere from a few weeks to several months:
The first type - Freighters - including containerships and general cargo ships, are one of the lifelines of the world economy. However, of the 29,000 large oceangoing ships in the world, only about 1% carry both passengers as well as cargo, offering accommodations for up to 12 passengers. Passengers make their choices based upon a desired, worldly experience rather than on factors such as price, glitzy entertainment, or the need for lots of amenities. They are often an affluent, but unpretentious, lot who relax on board in shorts and sandals, lay back reading a book in a deck chair, hearing nothing but sea gulls and waves. Ashore, they make their own arrangements and visit places they have read about.
"Strange ports have opened our eyes to different cultures, natural oddities, and man-made wonders. Stimulating discussions at the dinner table have broadened our knowledge and sharpened our thoughts. Lighter conversations with crew members and local townspeople have reinforced our belief that most people are good, simply wanting to live their lives in peace. For the past eighty days I have not driven a car, answered a telephone, or read a newspaper. Not many days from now I will miss those freedoms. I will miss watching the sunrise with the first mate on the bridge and my daily banter with the officers and fellow passengers. I will miss my afternoon walk to the bow, standing on the monkey deck, seeing nothing and everything at the same time. I will miss the excitement of discovering a new town, and the relief of returning to the ship" Bob Hartley
The second type - Supply and Mail ships - run supply routes to isolated coastal communities and distant islands. The Royal Mail Ship St. Helena is one of the more renowned of these, offering service for 128 guests from the U.K. to Cape Town, South Africa, with stops in the Canary and Ascension Islands and an extended stay in the British dependency of St. Helena, in the South Atlantic. In the South Pacific, the Aranui 3 sails regular 15-day voyages from Tahiti to the Marquesas Islands, carrying about 200 passengers on board.
In more northern climes, the Norwegian Coastal Voyage sails every day year-round. A mix of tourists and local passengers on all of these ships adds to the appeal. While the Patricia, flagship of a fleet that was constituted by Royal Charter in 1514, sails during the summer offering one- to three-week voyages around the coasts of England, Wales, and the Channel Islands, servicing lightships, lighthouses, and navigational buoys. Though there are few opportunities to go ashore, it's an amazing experience for maritime enthusiasts, with pleasant accommodations for up to 12 guests.
For more detailed information, including firsthand passenger stories, or to book a voyage, please contact:
Maris Freighter Cruises and Freighter Travel Club
1 800 996-2747
http://www.freightercruises.com
###