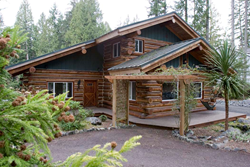 Seattle, WA (PRWEB) February 13, 2008
The nearly 7,000 square foot log home used in the filming of the television series "Northern Exposure" as the home of retired astronaut Maurice Minnifield (played by actor Barry Corbin) serves as the backdrop for a two-day class on building log homes, offered by the Log Home Builders Association's page about log cabin kits. The next class is scheduled for April 5th and 6th, 2008 at the world-famous location near Monroe, Washington.
In addition to teaching the craft of log home building, the Log Home Builders Association shows students how to use pioneering techniques to build their home from scratch without a log home kit. Many of the association's students have built their log home without a mortgage.
The two-day class is offered periodically throughout the year to students who fly in from around the world to learn the craft of building their own log home. The cost of the class is included in the association's lifetime membership fee of $795 ($695 each for groups of two or more).
To sign up for a class or to get more information about log home building, visit the association's web site at http://www.buildloghomes.org or call the association at (360) 794-4469.
About The Log Home Builders Association
The Log Home Builders Association has been teaching students to build their own log homes and log cabins from scratch since 1965 and currently has over 45,000 members throughout the world. The association was founded by Skip Ellsworth, a fifth-generation log home builder who is considered the world's foremost authority on log home construction.
Contact Information:
Steve White
Log Home Builders Association
(360) 794-4469
info(at)buildloghomes(dot)org
http://www.buildloghomes.org