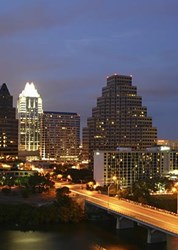 Downtown urban living is continuing to grow and that trend is here to stay.
(PRWEB) March 01, 2008
Austin, Texas (PRWEB) March 1, 2008 -- "Downtown urban living is continuing to grow and that trend is here to stay," says Ray Walter of Walter Mortgage Funding. There is definitely a new trend resonating in downtown Austin as many professionals are choosing to live, work and play in proximity to one another.
If You Build It They Will Come
What's driving the development of http://www.fpaustin.com? For one, the abundance of new office space in downtown Austin? Many companies are now seizing the opportunity to move to operations to Austin due to the affordability of real estate, favorable State tax policies, the large technical employee pool and the beautiful Austin climate.
"Living in downtown Austin is about convenience, location and personalization," says Joshua Geary, Senior Marketing Consultant of Best Online Results. "People want to live close to their work to cut down on gas expenses, commute times to and from work, and people, especially those who graduate from UT want to stay connected to the vibrant Austin culture and community."
Live the Big City Life without the Big City Price
Most Austin apartment communities include little more than the basic amenities. However, The French Place Condos offers the best of the best at an affordable price. Starting at $995 a month, residents of The French Place Condos enjoy amenities usually only found in high-end locations like Manhattan and Miami. "French Place condos are designed with the resident in mind. The condos are large one bedroom units ranging from 650-680 square feet and come standard with bamboo floors, granite counter tops, comfortable floor plans and exceptional appliances." -- Jeff Lewis, Walter Mortgage Funding in Austin, Texas.
Other amenities include:
Grohe Fixtures in Kitchen and Bath, Granite Counter Tops, Stainless Steel Appliances, Hardwood Floors, Free Wireless Internet, Free basic cable
Location, Location, Location
Whoever first coined the phrase "Location, Location, Location" must have had The French Place Condos in mind. Just ask Google. According to WebPro News, Google has recently leased office space on the second floor of the Scarborough building. The company is expected to move to the area in the spring of this year. According to The Daily Texan, Google has already started placing ads on Google and MediaBistro for engineers.
Within the next year, 1,200 condo units will come on the market, ready for rent or buy. However, due to the affordability and amenities "we feel the French Place Condos will likely be a top choice of many urban professionals looking to reside in downtown Austin. With the growth in downtown Austin, we feel that downtown Austin will be a bustling metropolis within a metropolis," says Ray Walter.
If you wish to be one of the privileged few to enjoy all that The French Place Condos has to offer, then contact fpAustin.com for a private showing. With its convenient Downtown Austin location, it is our sincere hope that you will make French Place your home.
# # #