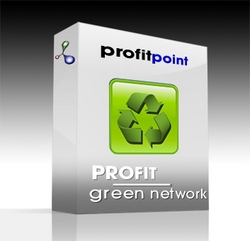 By leveraging our work in Profit Network, we were able to build a powerful tool that accounts for environmental impact and profitability.
North Brookfield, MA (PRWEB) April 4, 2008
Profit Point, Inc., a leading supply chain consultant, today announced the introduction of Green Network™ , a supply chain network design application that enables supply chain managers gain visibility in to the trade-offs they will face when designing a green supply chain. Green Network is an extension of company's popular Profit Network™ application and enables supply chain managers to include any number of environmental byproducts, including carbon dioxide, nitrogen oxide, particulates, and wastewater, in to the analysis process. The user can also manage total energy consumption or the type of energy consumed (coal, natural gas, hydroelectric, thermal, wind, etc.) in the design of the supply chain.
"Many of our clients have expressed a strong interest in greening their supply chains to meet the growing demand by consumers," said Alan Kosansky, Profit Point's President. "Designing a sustainable supply chain is becoming a significant priority for our clients, but not at any cost. The key to building a sustainable supply chain comes in truly understanding the trade-offs that are faced by decision makers."
Green Network was designed as an out-growth of Profit Network, an industry-leading supply chain network design software system. Profit Network is a robust, yet cost-effective tool that helps companies of all sizes optimize their supply chain for maximum profitability.
"Profit Network software has been helping Fortune 500 companies around the world build more robust and profitable supply chains for more than 10 years," said Jim Piermarini, Profit Point's CTO. "By leveraging our work in Profit Network, we were able to build a powerful tool that accounts for environmental impact and profitability."
In addition to Profit Network and Green Network, Profit Point's line of supply chain software also includes Profit Vehicle Router™, a system for optimizing transportation routing, Profit Distribution Scheduler™ for easy production and distribution scheduling and Profit Meeting Scheduler™, a sophisticated conference scheduler used by major trade organizations.
For additional information about Profit Point's supply chain design and optimization software and consulting services, contact Richard Guy or visit http://www.ProfitPt.com.
About Profit Point:
Profit Point Inc. was founded in 1995 and is now a global leader in supply chain optimization. The company's team of supply chain consultants includes industry leaders in the fields infrastructure planning, green operation, supply chain planning, distribution, scheduling, transportation, warehouse improvement and business optimization. Profit Point's has combined software and service solutions that have been successfully applied across a breadth of industries and by a diverse set of companies, including The Coca-Cola Company, General Electric, Rohm and Haas and Toyota.
###