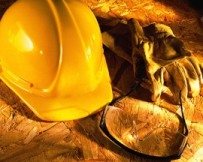 Our expansion will allow us to offer our customers quality customer service and expertise in regards to their PPE purchasing
Clark, NJ (PRWEB) May 28, 2008
Select Safety Sales expands its customer service and safety departments to help its customers adhere to the final rule regarding employer paid PPE mandated by OSHA that went into effect May 15, 2008. The final rule will require employers in manufacturing, maritime and construction industries to pay for all PPE (Personal Protective Equipment) required to be worn by their employees in the plant or on the jobsite. "Our expansion will allow us to offer our customers quality customer service and expertise in regards to their PPE purchasing," states Matthew Kane, Managing Member.
This Summary of the Fianl Rule on Employer Paid PPE was introduced back in November of 2007 and comes into effect now. OSHA requires that the payment for new and replacement PPE lies solely on the employer except in circumstances where an employee loses or intentionally damages the equipment. The employer is deemed responsible for their workers' safety and this step should further institute that employees have and wear adequate protection on the job. PPE consists of eye, hearing, fall, foot, hand and fall protection in an industrial setting. It is the hard hat that prevents a blow to the head, ear plugs that prevent hearing loss and safety vests for high visibility on dangerous highways along with other safety products that keep a workforce safe on the job. "It could become a job in itself for industrial companies to take care of the administrative portion of their PPE purchasing" says Kane. "With our expansion, we can help our customers choose their PPE for safety, comfort and cost efficiency."
Employers should be able to choose the most convenient method of payment when dealing with their suppliers. Some companies might find it easier to be set up on account making monthly payments whereas others might give their employees an allowance before or reimbursement after a purchase has been made. "For companies that use large amounts of PPE, this new rule can have an impact on the cash flow of a business along with the managerial time involved," advises Kane.
In an industrial setting, PPE will now be just another cost of doing business. A cost that, in the long run, enhances greater productivity in workers by saving lives and creating many useful years of labor. Allowing employees to be responsible for their own PPE could put a burden on some workers. This burden could cause these workers not to purchase PPE or to purchase lower quality PPE that does not offer the same level of protection. This new ruling will increase the amount of control that an employer has over both selection and maintenance of personal protective equipment which in turn will increase the overall effectiveness of their safety program and overall workplace safety in industry. "I am happy to be able to provide products to my customers that not only ensure the productivity of their workforce but their safety as well" states Matthew Kane.
For additional information contact:
Matthew Kane
Select Safety Sales LLC
(866) 864-3495
# # #