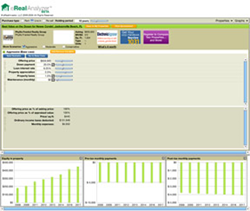 (PRWEB) May 30, 2008
Jacksonville, FL The Phyllis Frankel Realty Group is excited to announce a new financial analysis tool called eRealAnalyzer™, that will allow buyers, and investors the opportunity to measure the pros and cons of buying, selling or investing in property in the Jacksonville and Ponte Vedra Beach areas.
Because today's real estate market in Florida has put buyers, and investors in a confused and alarmed state of mind, they feel that providing a tool, such as eRealAnalyzer™, will help give those who are buying, or investing in real estate with the Phyllis Frankel Realty Group, some peace of mind.
Creating spreadsheet after spreadsheet containing different scenarios such as "live in", "rent", or "re-sell", is a very time consuming process and can become extremely frustrating. Using eRealAnalyzer™ will alleviate that aggravation.
Using sliders to adjust the down payment, interest rate, property taxes, potential rent, and property appreciation, will provide a clear visual picture by displaying cash flow, payments, and how much equity will accrue over 10, 15,and 20 year periods, in up to 14 different graphs.
The easiest way to use this tool is to go to the Phyllis Frankel Realty Group website. Find a property that is of interest, and then click on the 'Analyze' button just below 'Tell Me More'.
Summary of benefits include:
>> It gives buyers control by providing a visual intuitive analysis, driven by sliders.
>> It will allow the average home buyer to visualize annual equity growth and pre-tax and post-tax cash flows under different down payment, interest rate and loan scenarios.
>> By selecting multiple properties, side-by-side comparisons can be done.
>>Investors get instant access to all the financial modeling and graphs needed to make good investment decisions.
Given this tool, both buyers and investors will be able to make a sound decision when trying to decide if and when to buy property in either the Jacksonville Florida real estate or Ponte Vedra Beach real estate area.
###