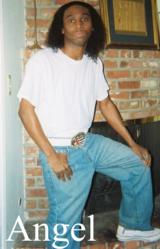 Los Angeles, CA (PRWEB) June 11, 2008
Angel's Boy Enterprises founder and recording artist Angel will be releasing his debut album, which is titled, Amante del dedo del pie and music video soon. The controversial single, which is titled, 'Toe Lover', has already been previously released. Toe Lover which sold well over a 100,000 copies independently, gave him great recognition around the world especially in Latin America. Toe Lover also features tunes in both English and Spanish.
On June 10, 2008, Angel did an exclusive live taped interview on Angel Spanish Television.
Angel's Boy Enterprises is looking forward to sharing his story with media relations through the Internet, print media, radio and TV. Feel free to reach out to Ms. Carter at Angel's Boy Enterprises to schedule interviews, features or reviews by email at angelsboyenterprises(at)yahoo(dot)com
PR Note: To gain access to art work, song snippets, and a YouTube video stream, please visit BillboardPublicityWire.com and conduct a search for Angel. You may also visit Angel's official website for rich media content.
About Angel
Angel was born to a Cuban French mother. He is also of Indian descent. In his teens, he moved to California for a better life and to pursue his dreams musically. His zest for life has taken him to places he never thought he would go. It has allowed him the freedom as an artist to write, create, to be the type of artist who will be remembered until the end of time for his timeless work.
About Angel's Boy Enterprises:
Angel's Boy Enterprises was established by Angel in 2004. The indie record label was launched, because Angel wanted to express himself without the added pressure of signing to a major label. Angel patiently waited to start his company, because of his strong belief in his own creativity.
# # #