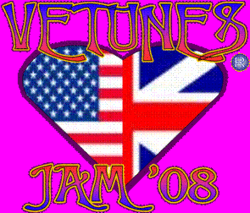 We are actively inviting individuals, communities, businesses and organizations such as you and yours to join us through sponsorship of our down home, grassroots VETUNES ® JAM '08 in support of our veterans and their families
Central Valley, NY (PRWEB) August 05, 2008
American Veterans Aid Fund and their music industry division VETUNES® is making the sponsorship opportunities for VETUNES® JAM '08 available.
"We are actively inviting individuals, communities, businesses and organizations such as you and yours to join us through sponsorship of our down home, grassroots VETUNES ® JAM '08 in support of our veterans and their families," said Greg Kelly, President American Veterans Aid Fund. "In cooperation with The Southern Rock Society and VETUNES ® Radio donated by The Band House Live, we are producing and hosting VETUNES ® JAM '08 on October 4, 2008. A free Southern Rock music event broadcast worldwide via Internet radio. A concert that is wholly funded by sponsorship, with artists and bands donating their respective shows, and free entrance to all."
A concert that is the end point of fund raising efforts worldwide for American Veterans Aid Fund and The Royal British Legion. A concert of the veterans; by the veterans; and for the veterans of The United States of America and The United Kingdom.
American Veterans Aid Fund and its music division VETUNES ® is an all volunteer nonprofit, 501(c)(3) organization, established to assist veterans and their families in obtaining and maintaining the respect, dignity, and honor earned through their service and sacrifice. AVAF has a relationship with veterans, their families, and veteran organizations based upon mutual regard and shared visions for a better tomorrow as well as common interests and values.
For information on how to become a sponsor for the U.S. and UK Heroes at VETUNES ® JAM '08 and the benefits of sponsorship and tentative performers list, contact them by email at vetunesjam08(at)yahoo(dot)com or visit them on the Web at http://www.americanveteransaidfund.com and fill out the contact form.
###