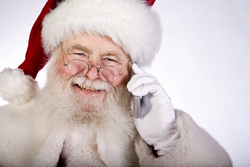 Testimonials on our site told us we really had something good and we decided to really make a go of it this year
Hockley, TX (PRWEB) September 16, 2008
A new service, KrisKringleCalls.com, is promising to make the Santa experience last for children and their families beyond the traditional mall visit this holiday season. Thanks to this hi-tech personalized service, Santa's call to a special child is no longer generic, but tailored to that individual child.
Children will hear Santa say things like: "Santa knows you have tried to be good this year and I am so proud of you!" and "Santa loves you very much." Then, thanks to help from parents and caregivers, Santa will 'know' a little something more about what that child wants for Christmas and will prompt them to talk about it. Santa will even remember a gift given in past Christmases. That special child will come away saying, "Mommy, he knows everything!"
For parents and caregivers wanting the season to be even more meaningful, Santa's message can also talk about the religious origins of Christmas.
And to preserve the moment, an instant audio recording will be made of Santa's special call and emailed to the child's caregiver, which can be shared with friends and family. The .Wav recording is included in the service.
"We test-marketed Kris Kringle Calls last season and the demand was overwhelming," says CEO and founder Jeffry Angelo. "Testimonials on our site told us we really had something good and we decided to really make a go of it this year," says Mark Anderson, Vice-President and Creative Director.
One mom described the KrisKringleCalls.com experience like this, "Wow! I love the fact that now we have her little voice memorialized in such an innocent moment. Way too sweet. Love it."*
Santa receives so many requests and at times, they can be out of his scope such as requests to bring back a loved one or heal a marriage. KrisKringleCalls.com ensures that Santa has been coached to provide words of comfort and even lead a child in prayer when given this permission through the website.
KrisKringleCalls.com offers individual calls in addition to extended packages for multiple siblings in the same call. Live Santa calls start at around $25, but that can be reduced by visiting http://www.mysantapics.com to receive a $5 off coupon. KrisKringleCalls.com even offers a refer-a-friend program that can reduce the service to less than $10!
KrisKringleCalls.com, through its partnership with Worldwide Photography, has an outreach component built into the service which allows a dollar for dollar matching contribution to http://www.showhope.org, an adoption grant foundation connecting orphans with their forever families. Show Hope is the foundation started by five time Grammy award winner Steven Curtis Chapman and wife Mary Beth.
Extend the Santa experience this season with a live fully personalized phone call from Santa with KrisKringleCalls.com where "hearing is believing!" For more information, please visit http://www.KrisKringleCalls.com or call 888-848-4573.
KrisKringleCalls.com is a Better Business Bureau accredited company, a Children's Safe Harbor site and affiliated with SEPIA Photo Promotions, which has more than 20 years experience in providing Santa photography to major shopping malls from coast to coast.
*To hear this precious phone call, please click on the attached audio file
Media Contact:
Jeffry Angelo, CEO and Founder
Kris Kringle Calls, Inc.
888-848-4573
###