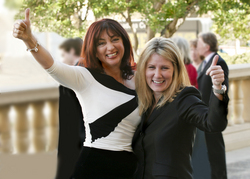 The Bullet Proof Study Method
Santa Monica, CA (PRWEB) May 13, 2008
Shari Karney, founder of Barwinners, is releasing free to law students and law firms with first year associates, the top seven secrets to passing the California Bar via free audio Podcasts from the Apple iTunes store.
Shari Karney founded Barwinners 26 years ago and has a wealth of experience in helping law students pass the California Bar. Now she is giving it away for free on the Apple iTunes store.
According to Shari Karney, Barwinners founder, "With the rise of digital literacy and internet access every law student has an iPod, iPhone or laptop which can easily connect to the Apple iTunes store. I realized there is a large group of law students and first year associates who are unable to attend our Barwinner's Bar prep courses. I wanted everyone of them to pass the California Bar. So I researched what worked best in the last 26 years of teaching bar prep courses. This wealth of information grew into the Seven Secrets Podcasts."
The Seven Secrets Podcasts are designed to help anyone seeking a California bar card focus on what is really needed to pass the bar, said Karney. These podcasts will give anyone, whether they have taken a bar prep course or not, the extra edge needed to pass the California Bar, she added.
The Barwinners podcasts cover topics and secrets including "Fail Safe Study Schedule," "The Bullet Proof Study Method," "Writing the 1-3 Minute Passing Essay," "MBE Master Methods," "Memorization Tips & Tricks," "Reducing Test Anxiety," "BAR Test Day" and more.
Anyone can subscribe to "Shari's Seven Secrets to Passing the California Bar" using the free iTunes software for Microsoft Windows or OS X from Apple. Just go to the iTunes store and search on "Barwinners," then subscribe to the "Barwinners" podcast stream to have each weekly podcast automatically downloaded for use on your iPod, iPhone, or computer. These podcasts are not a replacement for any bar prep course including Barwinners. Instead, they are a valuable and free Bar prep course supplement.
About Barwinners and Shari Karney, ESQ.
Barwinners has 26 years experience with one of the highest Bar Exam pass rates -- 94% first-time takers, 87% repeaters. Shari Karney works with a team of talented professors, former Bar Exam graders, Multi-State pros, and tutors. You can find more about Shari and Barwinners on a variety of web and social networking sites including, FaceBook (Shari Karney), Linkedin.com (Shari Karney), barwinners.com and now on the Apple iTunes Store (Search for Barwinners).
###