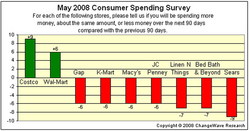 Rather, it has the all trappings of a consumer revolution -- and it's continuing to pick up steam.
Rockville, MD (PRWEB) May 29, 2008
A new ChangeWave survey shows a continuing powerful movement by consumers towards discount retailers and wholesale clubs -- even as overall consumer spending appears to be headed for its first uptick in nearly a year.
The May 6-14 survey of 4,403 consumers, which focuses on spending patterns for the next 90 days, shows Costco (COST) and Wal-Mart (WMT) leading all other retail outlets in terms of future spending growth.
This was the third consecutive ChangeWave survey since February that has uncovered strength for Costco and Wal-Mart, highlighting a continued large-scale movement towards discount retailers that's being driven by high inflation and -- until recently -- a slower spending environment.
"The retail shopping transformation we're seeing does not appear to be a short-term phenomenon," said Tobin Smith, founder of ChangeWave and editor of ChangeWave Investing. "Rather, it has the all trappings of a consumer revolution -- and it's continuing to pick up steam."
In other positive news for the two retail giants, when consumers were asked where they expect to spend their economic stimulus tax rebate checks, Wal-Mart (12%) and Costco (12%) were the two biggest winners among the major retail outlets.
(Detailed charts on consumer spending trends, along with additional ChangeWave findings can be downloaded at changewave.com/consumer.
A Spending Uptick
For the first time in nearly a year, a consumer spending uptick has been picked up in a ChangeWave survey. It's only a slight one, and overall spending still looks decidedly gloomy, but the 90-day outlook is not quite as bleak as it was in ChangeWave's previous consumer spending survey in April 2008.
While two-in-five U.S. respondents (40%) still say they'll spend less over the next 90 days than they did a year ago -- that is 2-pts better than in April. Another 28% say they'll spend more -- a full 3-pts better than previously.
The survey also queried consumers on their impressions of current economic conditions, and once again while things still look bad, they don't appear quite as awful as they did in April:
--17% of respondents think the economy will improve in the next 90 days, 3-pts better than was seen in April. Even more striking, just 39% think the economy will worsen -- a big 11-pt improvement from a month ago.
--29% say the current state of the economy is better than they thought it would be 90 days ago, while 21% say it is worse than they thought it would be.
Where is spending improving? For the first time this year there is a slight uptick in consumer electronics sales, although spending in the sector is still very sluggish. There is also a 1-pt uptick in spending on consumer durable goods.
Notably, the survey found that the overall uptick in consumer spending is being driven by an improved outlook among households earning more than $100,000 per year.
The Biggest Consumer Threat -- Inflation
Although the survey found a slight uptick in consumer spending going forward, there are still powerful undercurrents that seriously threaten a U.S. recovery -- and first among them is spiraling consumer fears of inflation.
Among those who say they'll be spending less over the next 90 days, more than half (52%) cite Inflation as a reason -- a big 6-pt leap since April. Another 49% of consumers point to Higher Energy Costs -- also up 6-pts.
Other consumer concerns have increasingly taken a back seat to inflation. Perhaps most ominously, two-thirds of consumers report that due to increased energy costs their discretionary spending will be lower for the next 90 days.
Another major threat to recovery: the spending outlook for households earning Less than $50,000 per year remains extraordinarily depressed, with 61% saying they'll spend less over the next 90 days than they did a year ago -- 6-pts worse than in April.
To sign-up for real-time email alerts from ChangeWave on consumer spending trends and winning and losing retailers, visit changewave.com/hotwire.
About ChangeWave:
ChangeWave runs a proprietary network of more than 15,000 highly qualified business, technology, and medical professionals in leading companies of select industries -- credentialed experts who spend their everyday lives working on the frontline of technological change. ChangeWave surveys its members on a range of business and investment research topics, collects feedback from them electronically, and converts the information into quantitative and qualitative reports. For more information, visit changewave.com/consumer
###