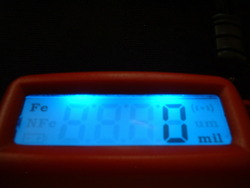 After selling over 4,000 Paint Meters in the last four years we knew that the one thing missing on all paint thickness gauges used by Car Dealers was an illuminated display
Gulf Shores, Ala. (PRWEB) October 8, 2007
"After selling over 4,000 Paint Meters in the last four years we knew that the one thing missing on all paint thickness gauges used by Car Dealers was an illuminated display," said FenderSplendor President, Allen Willey. "At least half the vehicles that are appraised are appraised at night, so a lighted display just makes good sense." The new, lighted 2008 FS 488 Paint Meter makes it easy to find hidden paintwork on the darkest night or on dreary rainy days.
"One look at the new 2008 Illuminated Display FS 488 Paint Meter tells the whole story," said Willey. http://www.wholesalepaintmeters.com/Order_Page_for_FS488_paint_meter.html (Take a look.)
Car Dealers started buying Paint Meters in large numbers several years ago when FenderSplendor.com introduced discount pricing to the Dealers. Dealers quickly realized the the FS 488 Paint Meter helped them avoid costly appraisal mistakes and make better buying decisions at the Auto Auctions. FenderSplendor estimates that the FS 488 has helped Car Dealers avoid over $5,000,000 in potential losses in just the last 18 months.
"As great as the FS 488 is, I knew one thing was missing. I spent too many years appraising and buying cars at night; and knew that most mistakes are made in the dark. We made a decision, over a year ago to add an illuminated display to the FS 488," Willey said. http://www.wholesalepaintmeters.com (2008 Lighted FS 488)
To be sure that the Ice Blue Illuminated Display would hold up to the rigors of the Automobile Business, Willey put the Illuminated Display in his FS 502, a paint thickness gauge used in industrial situations. After a year of testing we are ready to offer the new 2008 FS 488 to Car Dealers and Auto Auctions across the USA and around the World.
Willey concluded by saying he was most proud of the fact that FenderSplendor is able to offer the new 2008 Ice Blue Illuminated FS 488 at the same price us the old unlighted 2007 FS 488. "When I got into the business I made a decision to offer the highest possible quality paint meter at a price all the dealers could afford. With the new Ice Blue Illuminated Display we are able to offer even greater value to our Car Dealer friends." To add more value, Willey offers quantity discounts to dealers needing more than one FS 488. http://www.wholesalepaintmeters.com/Order_Page_for_FS488_paint_meter.html (Quantity Discounts)
###