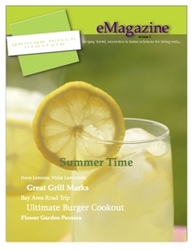 I'm excited about my new eMagazine. I present features on experiencing a better life whether at home or traveling. In addition to my TV show I am able to reach a global audience in this new interactive digital edition and integrate my favorite TV segments
New York, NY (PRWEB) June 17, 2008
George Hirsch Lifestyle eMagazine, a new quarterly publication geared towards men and women, who want the most out of everyday living, launches summer issue today and is available at georgehirschliving.com
Just in time for the summer season, the eMagazine is based on George's informative and entertaining lifestyle TV show George Hirsch Living It Up. George Hirsch Lifestyle is filled with George's helpful home solutions, savory easy to prepare recipes, travel tips to world-class locations, shopping and gift guides and a wide range of recreational activities. The interactive digital edition features are delivered in an engaging format to make summertime activities successful. Also, including George Hirsch iTunes Video Podcasts. The Hirsch Productions Publication is available for free at georgehirschliving.com
George Hirsch Lifestyle is a timeless how to source for the family's lifestyle needs. George's inspiring ideas, coupled with his easy savory recipes makes this is a unique source of summertime planning. Readers will be inspired whether planning vacations, road trips, backyard and poolside BBQ's, entertaining at home or staging that perfect beach day. This issue includes dozens of George's summer inspired recipes from burgers to lobster and great grilling tips from the master himself. Readers will also find inspiring features on travel, garden, home and shopping.
Other highlights in this issue include:

Your Guide to Farmers Markets
Best Beach Picks & Snacks
Summer Garden Checklist
Travel to Wine Country
Shopping Tips
Living Well Tips and so much more. . .
When things heat up this summer, George has you covered with some cool beverages such as Making Lemonade Out of Lemons and his Chilly Chocolate Shake.
George Hirsch Lifestyle sample recipe:
George Hirsch's Watermelon Mojito
Makes two servings
6 fresh mint sprigs, tear with fingers
1/4 cup watermelon puree
2 teaspoons 'turbinado', sugar in the raw
Juice of one lime
3 ounces light rum
Chilled club soda
ice; and garnish with 2 lime wedges & 2 small sprigs of mint
optional: use sugar cane sticks for stirrers
Into two glasses divide the mint and sugar.
Crush mint with a muddler or the back of a spoon. Top with ice. Add the watermelon puree, limejuice and rum. Stir well. Top-off the glass with club soda.
Add the sugar cane stirrer, lime wedge and mint sprigs to the glass and serve.
Hirsch's easy-no fuss style and positive living well nature colors each issue. "I'm excited about my new eMagazine. I present features on experiencing a better life whether at home or traveling. In addition to my TV show I am able to reach a global audience in this new interactive digital edition and integrate my favorite TV segments" he said.
Created and published by Hirsch Productions Publications, each issue contains extensive lifestyle features such as seasonal recipes from George's kitchen, garden tips, travel features and home solutions for living well. This interactive digital edition of George Hirsch Lifestyle eMagazine is Carbon Neutral. For additional information and for custom viewing pleasure, Subscribe to future free issues of George Hirsch Lifestyle eMagazine.
To schedule an interview with Lifestyle Expert, George Hirsch
About Lifestyle Expert, George Hirsch, CEC, CCE, AAC. George Hirsch is the host of the syndicated television series George Hirsch Living it Up. In Fall 2008 George Hirsch Living it UP! releases its fifth season in syndication. The TV series highlights food, travel, recreation and home. As a five-time best selling author, lifestyle expert George Hirsch has reached a global audience through U.S. Syndication, his nine previous PBS series for more than a decade. He regularly appears on Live with Regis & Kelly along with other news programs.
###