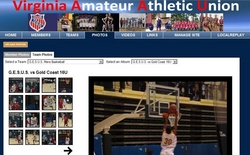 Through this partnership we hope to closer connect our Virginia AAU sports community
Fredericksburg, Virginia (PRWEB) June 14, 2008
Just in time for the summer sports season, Virginia AAU is providing its members and teams with the innovative LocalReplay.com web platform to enrich their amateur sports experience. Virginia AAU becomes the first major amateur sports organization in the US to offer all of its members this level of professional web technology, starting with Virginia AAU basketball.
"Through this partnership we hope to closer connect our Virginia AAU sports community," states Jeremy T. Bullock, Virginia AAU Director of Operations. "LocalReplay will give our teams and fans a better opportunity to share game highlights, schedule events and directly connect with one another all in one place. Please visit the Virginia AAU organization site to become a part of this new exciting AAU community."
Gil Zino, LocalReplay President, said, "Virginia AAU can now use LocalReplay's integrated web, text messaging and email solutions to share info, videos, photos, profiles, stats and more with family, friends, scouts and colleges. Virginia AAU basketball has already started to adopt the platform, and every Virginia AAU team and member can now join at anytime."
Virginia AAU basketball players and teams are already live on the platform, starting their personal and team websites, and using the LocalReplay local sports applications to connect, communicate and collaborate online. Sites can be started in minutes with no web experience and all the sites will be linked together at, the Virginia AAU community site.
LocalReplay provides personal profile websites for every type of Virginia AAU individual, including players, coaches, fans, scouts, parents, videographers and photographers. Teams host their websites on the LocalReplay network as well, using the web and mobile communication tools to share videos, photos, rosters, schedules, statistics, tournament information and documents. Sites contain social networking solutions, but can also be made private or password protected.
About Virginia Amateur Athletic Union
The Amateur Athletic Union (AAU) was founded in 1888 to establish standards and uniformity in amateur sport. The AAU is one of the largest, non-profit, volunteer, sports organizations in the United States. A multi-sport organization, the AAU is dedicated exclusively to the promotion and development of amateur sports and physical fitness programs. The Virginia AAU was established on December 9, 1934. It is includes the Commonwealth of Virginia (except the Counties of Arlington and Fairfax and cities of Alexandria and Falls Church.)
Contact: Jeremy Bullock, 540.710.1228
About LocalReplay
LocalReplay.com provides local sports individuals and groups with solutions to connect, communicate and collaborate. LocalReplay provides interactive, multimedia web sites for teams, leagues, players, coaches, scouts, fans, sports videographers and photographers and tournaments. Individuals and teams connect their sites to form their own local networks, and sites and content are aggregated on individual City Sites based on zip codes, each community's individual website featuring their local sports. LocalReplay is the first to provide multimedia solutions to entire local sports communities, rather than certain levels or specific sports. To instantly join, go to LocalReplay.com
Contacts: Gil Zino, 704.855.7795; Bob Smith, 540.907.7553
###