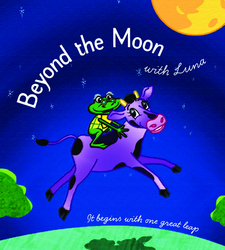 Beyond the Moon with Luna
Corte Madera, CA (PRWEB) October 14, 2008
IAGmedia launches "Beyond the Moon with Luna", the first in a series of books to help inspire girls to leap for what they dream and support each other along the way. The book marks a leap of faith for the company founder, Stephanie Rach-Wilson, just as the story was being illustrated her daughter was diagnosed with a medical condition which only affects girls.
"'Beyond the Moon with Luna', is a wink to the cow who jumped over the moon; giving insight to what was going through her mind before taking that first leap," says author Stephanie Rach-Wilson. "I wrote the story I had told to my daughter and her friends so many times, it's just passing along the inspiration and gumption my mother instilled in me so many years ago."
The story begins with a young cow just joining the herd and resigning herself to a life of giving milk and howdy "moos." It's after a few nights of watching other girls leap over the moon that Luna starts to wonder if she, too, can go beyond expectation. With the help of a wise frog, Chester, Luna is inspired to dream of greater pastures and take her first leap. The series will continue, taking Luna beyond the moon and meeting women who dared to leap before her.
"Girls today need to know about the great women who contributed to science, art, history, medicine, and society changes, like the suffragettes, persevering at times that were both dangerous and not socially accepted," says Ms. Rach-Wilson. "Our goal is to instill sensitivity and confidence in young girls before they go to school where peer influences are greater."
Research states that parental interaction helps build self-esteem yet many kids today spend less time within the home engaged in family activities. "Beyond the Moon with Luna" focuses on girls 3-8, an important time for building confidence and good character; and a time when most kids are still enjoying being read to by parents or just transitioning to independent reading.
The Company will donate a portion of proceeds to help raise awareness for Turner Syndrome, a rare chromosomal disorder, which affects females both mentally and physically. It boasts a broad spectrum of abnormalities leaving each person unique in how they will be affected but connected to each other by some outward physical characteristics like short stature. A simple blood test is the first step in diagnosing Turner Syndrome but many girls go undiagnosed for years. Ms. Rach-Wilson is currently co-writing a book for doctors and families to better understand the expressions of Turner Syndrome.
"Beyond the Moon with Luna" is available online at http://www.beyondthemoonwithluna.com or at specialty retailers.
IAGmedia is a family-lifestyle entertainment company delivering products and programs that help instill positive life values in young children. The Company recently won an iParenting Award for its nature DVD and book series, Into the Great Outdoors. To learn more or request a copy of "Beyond the Moon with Luna", please email info @ iagmedia.net or call 415-271-9603.
###