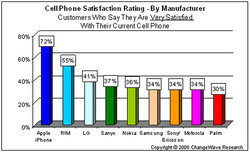 Rockville, MD (PRWEB) February 7, 2008
Record numbers of consumers are abandoning their basic cell phones for more advanced models -- with Research-in-Motion (RIMM) and Apple (AAPL) the primary beneficiaries, according to ChangeWave's latest consumer cell phone survey.
The January survey of 4,182 consumers focused on key market share changes among cellular manufacturers and service providers -- and the results show a continuing seismic shift in the cell phone market.
Among respondents who said they plan to buy a new cell phone in the next six months, the Apple iPhone (17%; up 1-pt) remains the top choice. However, the RIM BlackBerry is a close second (15%; up 3-pts), and shows the most momentum going forward.
On the downside, one-time market dominator Motorola (MOT) (11%) has declined another 4-pts in terms of future planned purchases, continuing a horrendous slide that began immediately after Apple CEO Steve Jobs' announcement of the iPhone.
The survey also found Apple maintaining a big lead in customer satisfaction (72% Very Satisfied) compared to the other major manufacturers, with RIM (55%) a strong second.
(The attached chart, along with additional ChangeWave Consumer Cell Phone and Service Provider survey findings, can be downloaded at changewave.com/cell).
Palm (30%) ranks at the very bottom in terms of customer satisfaction, while Motorola (34%), Sony/Ericsson (34%) and Samsung (34%) are all tied in next-to-last place.
The accelerating shift to advanced smart phones comes at a time when overall consumer cell phone buying appears to be weakening. Just 23% of respondents say they'll buy a cell phone over the next six months -- 3-pts less than at any other point of the past year.
About ChangeWave:
ChangeWave runs a proprietary network of more than 14,000 highly qualified business, technology, and medical professionals in leading companies of select industries -- credentialed experts who spend their everyday lives working on the frontline of technological change. ChangeWave surveys its members on a range of business and investment research and intelligence topics, collects feedback from them electronically, and converts the information into proprietary quantitative and qualitative reports.
For more information and contact details, go to: changewave.com/cell).
###