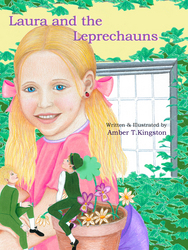 Newport Beach, California (PRWEB) May 12, 2008
First-time author Amber T. Kingston not only received a glowing review from a Disney® Imagineer, her book "Laura and the Leprechauns" was recently nominated for the Benjamin Franklin Award in the following category: Interior Design, Children¹s/Young Adult. The 2008 Benjamin Franklin Award winner will be chosen from one of the three finalists and will receive the Benjamin Franklin Award during a ceremony on Thursday evening, May 29, 2008 at the Wilshire Grand Hotel, located at 930 Wilshire Blvd., Los Angeles, California.
Kingston received notification about her recent nomination while visiting Europe. Kingston is currently storyboarding ideas for the next book in, what she plans to be, a series of three.
While in Germany she provided two live readings to German children in both German and English. The school she visited is Grund-und Hauptschule in Gaimersheim located near the original setting of Laura and the Leprechauns.
Chrysalis Press released Kingston's first book "Laura and the Leprechauns" in December of 2007. The 32 page hardcover book contains full color drawings and photography and limited edition versions have been published in German. The storyline was inspired by the fresh imagination of 7-year-old Laura Liepold, encouraging belief in magic that is often lost too soon and capturing the essence of childhood.
Kingston firmly believes that children should be exposed to quality, imaginative literature and this book is destined to be a classic. When her initial review copies were distributed, Kingston caught the attention of respected Walt Disney® Imagineer Bran Ferren of Applied Minds Inc. The nomination for the Benjamin Franklin Award confirms that Kingston is a master of capturing childhood imagination.
Amber T. Kingston, born and raised in southern California, loves to write, paint and spend time with children. Laura and the Leprechauns is her first children's book.
Chrysalis Press is located in Newport Beach, California and Kingston can be reached via telephone 949.706.1860 or email at [email protected] Review copies are still available.
The mission of Chrysalis Press is to provide inspired, quality literature to children with appropriate content.
# # #