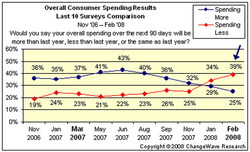 When the big boys shut off the spigot, the whole economic engine misfires.
Rockville, MD (PRWEB) March 5, 2008
ChangeWave's latest consumer survey shows a continued deterioration in U.S. consumer spending trends with no signs yet of any bottom. And in a striking finding, the survey results suggest that the government's economic stimulus package is likely to backfire.
The February 18-25 survey of 3,773 consumers focused on spending patterns going forward.
The survey found that nearly two-in-five U.S. respondents (39%) say they'll spend less over the next 90 days than they did a year ago -- 5-pts worse than January 2008 and the worst reading in a ChangeWave survey since 2002.
Just 25% say they'll spend more -- 4-pts worse than previously. But most ominously, the decline in spending growth is occurring across all income levels -- including "super spenders" who earn more than $150,000 per year.
"The slowdown in the super spender class is telling," said Tobin Smith, founder of ChangeWave Research and editor of ChangeWave Investing. "When the big boys shut off the spigot, the whole economic engine misfires."
The survey asked respondents who said they are spending less to say why. Topping the list was inflation, with two-in-five (40%) citing it as the reason for reduced spending. The inflation measure is 4-pts higher than in a January 2008 survey, and a full 10-pt jump from only three months ago (November 2007).
In another clear sign of consumer unease, nearly three-in-ten (28%) of those spending less say it's to save more money -- up 3-pts since January.
(Detailed charts, along with additional ChangeWave Consumer Spending survey findings can be downloaded at changewave.com/consumer.)
Consumer Electronics Spending Gets Whacked:
In one of the big surprises of the survey, consumer electronics spending appears set to take a huge hit going forward. The declines in this sector were greater than those of any other spending category.
Only 19% say they'll spend more on consumer electronics over the next 90 days compared to 33% who say less. All told, that's a net 10-pt decline since January and the weakest outlook for electronics spending ever recorded in an Alliance survey.
Impact of Economic Stimulus Package to be Far Different Than Originally Intended:
Perhaps the most striking finding came when the survey asked those who expect to receive the special tax rebate this spring to say how they'll most likely use the money.
The results may come as a shock to analysts who believe the government's economic stimulus package -- which features a one-time tax rebate check of $1,200 per family -- will jumpstart the U.S. economy.
Rather than stimulate spending, the survey suggests that a strong majority of consumers are most likely to use the special rebate to either pay down debt (33%), invest the money (23%) or save the money (21%).
By comparison, only a relatively small percentage say they'll actually spend the money on consumer goods -- which is the stated intent of this one-time shot to the nation's economic arm.
"These survey findings dispute the notion that consumers will race out to spend their rebate checks," said Smith, who added, "The results present a picture of an uneasy American public that appears more predisposed to hunkering down to wait out the current period of economic uncertainty."
On a brighter note, the survey results point to two winning retail stores over the next 90 days -- Costco (COST);Net Score = +8) and Wal-Mart (WMT); +2).
On the downside, Bed, Bath & Beyond (BBBY; -10), Macy's (M; -8), Sears (SHLD; -8), JC Penney (JCP; -7), K-Mart (SHLD; -6), The Gap (GPS; -6) and Nordstrom (JWN; -5) are showing considerable weakness going forward.
To receive regular insights from ChangeWave on emerging technology trends and companies, visit changewave.com/hotwire.
About ChangeWave:
ChangeWave runs a proprietary network of 15,000 highly qualified business, technology, and medical professionals in leading companies of select industries -- credentialed experts who spend their everyday lives working on the frontline of technological change. ChangeWave surveys its members on a range of business and investment research and intelligence topics, collects feedback from them electronically, and converts the information into proprietary quantitative and qualitative reports.
###